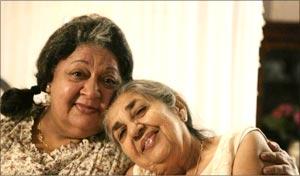 At 83, actress Shammi Aunty still loves acting. Failing health and a difficulty in hearing have not taken away her spirit.

After a long time, we got to see Shammy Aunty -- as she is fondly known in filmi circles -- in Shirin Farhad Ki Toh Nikal Padi. She plays Boman Irani's doting grandmother.
The attention she's getting after a longish gap is certainly welcome.

Basking in the attention, the veteran actress says, "I want to continue acting. It's the only thing I know to do. But movie offers had stopped coming. I was doing television but that has also dwindled. So I have been sitting idle. At my age, to be workless is to be worthless. Lekin main aaj tak kabhi kissi se kaam maange nahin gayi (I never went to anyone asking for work). I am happy with what comes to me. My role isn't big in Shirin Farhad... but it was great fun shooting the film."

The offer from Bela Bhansali Sehgal was godsent.

Recalls Shammi Aunty, "One day, I got a call from Bela. She said she was doing a film about the Parsi community, and would I play Boman Irani's grandmother? I greedily grabbed it. I never knew it would be so much fun."
Shammi Aunty says she didn't know Boman would be so entertaining. "He is relatively new in movies, so I had never worked with him. He was so wonderful. He kept saying he was happy to work with me. Most of my scenes in the film were with him and we had fun shooting together. I didn't have too many scenes with Farah Khan but I've know her from her childhood. As for Daisy Irani, who plays my daughter-in-law, I was in her first film Bandish in 1955 when she played Meena Kumari's little son. I remember she would come running into Meena's lap after every shot at RK Studios. And to be working with her after so many years!"
Shammi Aunty has also finished working in another film, directed by Pavan Kaul. "I went to Bangkok to shoot for Pavan's film. Bela's and Pavan's films happened one after another. Maybe more work will come my way soon," she says.
"It is unaimaginable for me to not work," she adds. "Boman asked me how many films I had done. I had no clue! Recently someone googled on me and found out I had done nearly 200 films. I was amazed. When did I do all these films? Time just  flew by!"
Nowadays, Shammi Aunty stays with her best friend Asha Parekh.