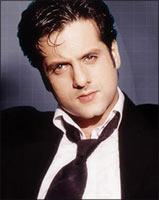 Eleven years after he was charged for possession of cocaine, actor Fardeen Khan has been acquitted, albeit conditionally.

"Conditions do and have applied," said a visibly-relieved Fardeen, his joy at being absolved by the honourable court diluted by a bereavement in the family.

He said, "There has been a death in the family so we're going through mixed emotions. We are grieving on one hand and on the other hand there's relief for the end of an 11-year old ordeal."

Throwing light on the case and his acquittal, Fardeen informs, "It was actually the provision under the NDPS, section 64A whereby one can apply for immunity from prosecution as long as you meet the criterion. We made an appeal according to the law under section 64A. The honourable judge accepted our appeal and heard us out. My lawyer and I are truly grateful to the Judge. It takes a lot of conviction to deliver such a fair judgement."

The actor is especially proud of his lawyer. "It is as much my victory as my lawyer Ayaz Khan's. He's been with me every step of the way of the case."

He says he has kicked all addictions except one. "I am hopelessly addicted to my family. My mom, sister, wife and in-laws are my strength. They've been very supportive through all these trying times."

The actor, who has been lying low for a while, warns against substance abuse. "Any mind-altering substance whether it's narcotics or alcohol or prescription pills, creates a lethal dependency. Before you know it, you're sucked into a downward spiral. The idea of any addiction is very damaging. My only addiction is the love of my family."

He adds, "If I had gone to trial, it would have meant many years of going in and out of court. Hopefully, all my problems are taken care of."
Fardeen sums up his ordeal: "It took them about 11 years to charge me. Once I was charged for attempting to purchase (cocaine), I could apply for an acquittal. My case was very straightforward. Now I can go back to doing what my father brought me up to believe in. Movies. Now I can focus on acting in and making movies."

The actor is looking forward to working on the long overdue remake of his father's most popular hit Qurbani.

He says excitedly, "We've just cracked the script. Sanjay Dutt and I have shaken hands over the project. He plays Amjad Khan's role and the rest of the cast will be locked in soon."

He is also getting ready to face the camera this year for the sequel to Anees Bazmi's No Entry where he has a double role.

He is aware he needs to lose weight too. "I am not blind to the excess baggage that I'm carrying around. All that will soon have to go. I'm working on it. Yes, I've had problems. Who doesn't? The important thing is to cope with them to the best of one's ability," he says.