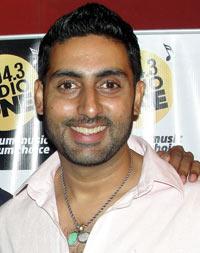 Contrary to rumours that childhood friends Abhishek Bachchan and his Drona director Goldie Behl have fallen apart professionally, the two are all set to come together for a comedy that the latter will direct.

The comedy, one hears from reliable sources, will crack a new style of humour in Hindi cinema.

Says a source, "It's not situational, not slapstick and certainly not based on double meanings.Goldie and Abhishek have planned this comedy together and would be looking at creating the kind of laughter not heard too frequently in our films."

When contacted, Goldie Behl admitted he was looking at directing Abhishek again. "My family and I heard about the so-called fall-out with Abhishek, and we're very amused. Yes, I'm returning to direction after four years. I've an idea for a comedy, and I want Abhishek to play the lead again."
About Goldie and Abhishek having collaborated on two films that didn't work, Goldie quips, "The dice has no memory of its rolling. Every opportunity is a fresh start. Abhishek and I are destined to come together for a successful film."
And yes, Abhishek will take a pay-cut as per the requirements of Goldie and his sister Shristi's company.