Abbas came to the film scene with a bang with Kadhal Desam twelve years ago. Having worked in Tamil, Telugu, Kannada, Malayalam and Hindi, he chose to stay away from the arc lights for a while. He is now back with two releases in Telugu Anasuya and Idi Sangathi.
Abbas talks eloquently about his Telugu films and also about the production company he wants to launch and the kind of scripts he's written.
In Idi Sangathi you play a role quite different from the chocolate hero you have normally played.
I have always been striving to do something different. I am bored of doing those foreign returned guy with sophisticated looks. I want to test the hungry actor within me. So I jumped at Anasuya and Idi Sangathi.
I loved the concept of coming up with all the characters in grey shades in Idi Sangathi. It was a kind of slapstick comedy which was not tried before.
Idi Sangathi had a certain amount of realism -- the greed and corruption which has become part and parcel of today's life. Did that also prompt you to do the film?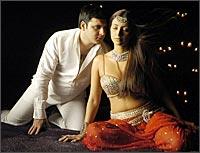 Absolutely. It's sickening to be living in a self-sufficient country that has all the potential to be number one but cannot because of its corrupt system -- from the top branch of the tree to its roots. It's a kind of a wakening call. Rang De Basanti woke up a few people's lives and shook them up from their conscience.
Idi Sangathi is a small step.
You came together with Tabu after many years. Was she also one of the reasons to act in the film?
Absolutely. My reason one for signing Idi Sangathi was the script and with Tabu in it, it was like sone pe suhaga. I was able to get back with an old co-star. I have always had a good rapport and personal bonding with her.
In the intervening years both of you have evolved as actors from the days of Kadhal Desam. How was it acting with her?
From our first film itself, we had a great rapport. We met up during Kandokondein, Kandukondein which Rajiv Menon had directed though she was not cast opposite me. Off screen too, we talk about general issues and also personal issues.
I have always looked up to her as an actor and have enjoyed working with her. I have seen her carry off the most intense roles very smoothly. I guess it's natural to certain people and she is one of them.
How was working with Chandra Siddhartha (the director)?
A treat. I've never really jelled with my directors though it's been very professional relationships. He is the first director I could say I have more than a professional relationship with him. We are more like buddies. I guess the wavelength matched, it was fun.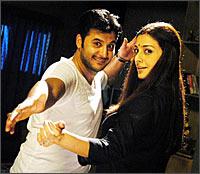 He's not the kind of person who will okay the first take just because you has been in the industry for 10 years or is working with Tabu. He'll push you by saying you can do better, why don't you try once more. We had the advantage of doing it in digital format so we had the liberty to go for many takes.
Suddenly you are seen in two Telugu films -- Anasuya two months ago and now Idi Sangathi. You must be inundated with offers?
I have not signed any film because I have another Telugu film Rudramani coming up. I had done the mistake of signing many films some time back because of personal reasons. This time I am going to hold back because I enjoy doing quality work and I know I am not the kind of actor who will enjoy acting for money. If something worthwhile comes I will do it. I want the audience to say Abbas has good taste.
You played a cop in Anasuya and a journo in Idi Sangathi. Did you do any kind of homework for the roles?
For Anasuya I tried to get a little bit of cockiness -- kind of referance to Mel Gibson's Lethal Weapon. I didn't sit with cops. I worked on the physical appearance as I got time to do so.
In Idi Sangathi Chandu wanted me to look very mature as I was playing husband to Tabu. He told me 'you look young'. I told him, 'Don't worry. I'll sport a beard, wear glasses and have a khaki look with jeans. I'll also gel my hair back instead of having a side parting'. That worked.
You were tied up and hung upside down in a haunted place in Anasuya. Wasn't it an eerie feeling?
It was eerie. I almost got electrocuted. We had wires running all over. I experienced electric shock. Luckily somebody pulled me off because the guy's hand (who was holding the wire) was on me. He let go of the wire. If he hadn't, I don't know what would have happened.
Would you like to talk about Rudramani where you act with Tanu Roy?
It's a commercial film. It's based on real estate hooliganism -- grabbing property from uneducated people by builders. It's more for the masses; to open their eyes and make them realise not to give away their prized possession for peanuts. This film was shot much before Anasuya and Idi Sangathi. We wrapped the project in 50 days and the producer decided to release another film before this. He is likely to release it in March.
I play the lead role as an action hero. People can look forward to the action sequences, songs and masala.
You told me that you wanted to have a production house where you want to monitor everything from script to direction. Is it on the cards?
It's happening because I have taken the rights of a very successful Hindi film and plan to remake it in Tamil and Telugu (will be totally remade in Telugu). The pre-production work is in process. The script is already there. We are just making a few changes here and there. It's a commercial film, a comedy.
Have you named your production house?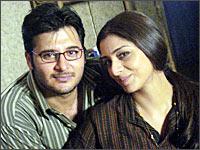 Not yet. Most important is to get the whole team together. I have spoken to the director and I am waiting for his consent. I have got a lot of learning to do.
As an artiste how do you rate yourself?
I would say the movies I have done so far do not have my best performances yet. They are average or above average. I feel today I am a much better artiste than what I was before in my earlier films. I would say I am a director's actor. Unless and until I pen down the script myself, I will not know each and every single emotion.
Have you written any scripts which could be made into films?
I have penned 5-6 scripts. Two are multi-starrers (one, an inspiration from Ocean's Twelve and another from The Great Escape.) In the one inspired by The Great Escape there is no war being shown; it's just the comedy. In South people don't relate to war because they have not seen it. I won't be touching the war part; it will be totally hatke but characters will be in uniform.  
The other scripts are romantic ones; one is about a husband and wife. I don't think I will be able to do this in commercial format. It's about infidelity and how it breaks up a man's mind as he's not a strong person mentally.
When do you plan to make these films?
 I guess each script has its day, like each book has its person who picks it up. I penned them down with the intention of making them. I don't know when. I have approached some people for the multi-starrer.
I want to break the concept of solo films that rules here. That's why I am making the effort. Tomorrow I can proudly say I am the only guy who has worked with actors from top to bottom.
In Telugu cinema multi-star concept seems hard to come by…
It's going to change.
Do we get to see the film by early next year?
Hopefully, by the year end or early next year.
Why did you want to start the company? Is it because you are fed up of the kind of scripts coming by or you have a penchant for creativity?
I have a penchant for creativity. There are many wonderful ideas in my head. I may not be a good screenplay or script writer but I have some wonderful ideas. When I have thought of certain ideas I have seen those come into reality in the Hindi scenario.
It's frustrating to see people who have the money do not have the direction. If they are producers, they don't know which script to bank on. They just blindly do it for a well known director or actor. It's the script that is paramount and not the saleability of the actor or the director.
You took a break in between. Was it to introspect?
To understand myself as to what I want; whether I want this career or if I am going to be in this career, how am I going to portray myself. I will do things my way, on my terms and conditions but I will be very careful unlike before. I will not trust and believe a person and surrender myself in his hands.
With your kind of hectic life, do you get time to spend with your kids?
I don't make my life hectic. I try and keep it simple. Whatever quality time I get, I spend with my family. I take a lot of holidays with them. We go out of the country on holidays where we have the time for ourselves and nobody bothers me, where I can be myself. Here it is a little difficult as people invade into your privacy but you can't help it as it is part and parcel of your profession.
You also mentioned about your world tour on a bike before you reach the age of 35…
I have left the planning and mapping to some of my friends who are bikers. It took me 25 days from Chennai to Kashmir because I stopped on the way to meet friends. I did this four and a half years ago. I did not document it on videotape. I wanted to document the people I had met in the course of the journey. I am planning to do that now in the world trip.
I am planning to travel on a minimal budget. Probably I'll just take a few travellers cheques and go and stay in a village and work there for my food and carry on to the next place. It's an experience I want to try out. I want to meet people and get to know more about other cultures.
I feel there is a lot more to life than just being an actor. You lose your identity thinking you are this to people but not knowing what you really are. I want to find that out.