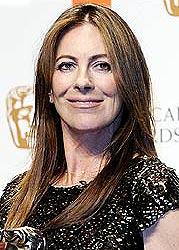 Famed Hollywood filmmaker Kathryn Bigelow has been given confidential access by the Obama Administration to make a film on the sensational raid that killed Osama bin Laden, prompting a US lawmaker to question the reported move jeopardising national security.
Drawing attention of the administration to a media report that Sony Pictures and Bigelow have been given access to confidential information, New York Republican Congressman Peter T King has said it is the duty of authorities to inform public and lawmakers before declassifying such matters.
He demanded an inquiry into the Pentagon's alleged collaboration with the Oscar-winning filmmaker. "I write to express concern regarding ongoing leaks of classified information regarding sensitive military operations," King, Chairman Committee on Homeland Security, said in a letter to the Defence Department Inspector General Gordon Heddell and CIA Inspector General David Buckley.
"As reported in a
New York Times
column on August 6, 2011, Administration officials may have provided filmmakers with details of the raid that successfully killed Osama bin Laden (UBL),"
the letter said. King said leaks of classified information regarding the bin Laden raid have already resulted, according to a June 15, 2011 article in the
Washington Post
, in the arrests of Pakistanis who were believed by local authorities to have assisted the CIA with the May 2 raid in Pakistan's garrison city of Abbottabad.
"Administration's first duty in declassifying material is to provide full reporting to Congress and the American people, in an effort to build public trust through transparency of government," King said. "In contrast, this alleged collaboration belies a desire of transparency in favour of a cinematographic view of history," he said. The film is reportedly to be released next October, just a month before the November 2012 elections.
"Further participation by JSOC and the Agency in making a film about the raid is bound to increase such leaks, and undermine these organisations' hard-won reputations as 'quiet professionals' - reputations important for their continued operational success. And, the success of these organisations is vital to our continued homeland security," he said. "Therefore, I request an investigation and classified briefing regarding this matter from the Defence Department's and CIA's Inspectors General," King demanded.