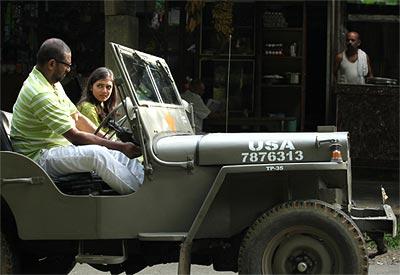 Ad filmmaker and director of the Tamil film June R, Revathy S Varma, is ready to entertain Malayali audiences with Maad Dad.

Produced by PNV Associates, Maad Dad's camerawork is by Pradeep Nair and the music director is Alex Paul.

"Maad Dad talks about a delicate and beautiful relationship between a father and his daughter," says Revathy, who has also directed two Telugu films, one Sri Lankan film and has completed shooting her first Hindi film, Aap Ke Liye Hum, with Jaya Bachchan as the central character, besides June R.

Palachottil Kuriakose Easow (played by Lal) is the father of Mariya (Nazriya) and is protective about her, knows what is best for her, but never lets his affection become an obstacle in her life.
They lead a simple life but all that changes when Mariya discovers that her father has a psychological problem, had gone into depression when her mother died, but fought it by creating his imaginary world with his wife.

Sreejith Vijay plays Bonnie, the son of the nouveau riche Soda Mathan (Lalu Alex). "He has studied psychiatry in London and has come back now. Mariya was his classmate there and the two are in love," says Sreejith.

TV anchor turned debutante heroine, Nazriya says that Maad Dad is essentially about the journey of a father who is pretty weird in his ways, and his daughter, who supports him totally.

Maad Dad hits the cinemas today.