Various people define patriotism in various ways.
What is patriotic to one may be absolutely traitorous to the other.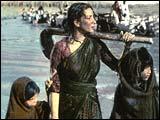 Indian cinema, more particularly Bollywood, has flirted with patriotic themes even before the shackles of British rule were broken permanently in 1947. There are many films with patriotic themes from the black-and-white era which still resonate in one's mind with their amazing plots, their superb casts and their mellifluous music.
How can you forget scenes from Do Bigha Zameen, Pukar, Rustom-e-Hind? Balraj Sahni in Kabuliwala was like poetry in motion.
| | |
| --- | --- |
| | More in Rediff! |
| | |
Today's actors and actresses could learn so much from him the art of understatement and expression of grief that he so beautifully portrayed in his movies.
I give Mother India 9 on 10 for touching a raw chord in the viewers' heart. Be it Nargis's histrionics or Sunil Dutt's wild antics, everyone in the film had a substantial role. The opening scene where Nargis inaugurates a national dam leads to an excellent flashback. The manner in which she is made to look like a septuagenarian is amazing.
The film became a classic because of its memorable climax, where Nargis weighs her love for her son against her love for her motherland. She acts in favour of the latter by shooting her son.
The sixties saw the rise of Manoj Kumar's patriotic fervour. His patriotic saga started with Upkaar, after which he went on to make a number of desh-bhakti films like Purab Aur Paschim, Shor, Roti Kapda Aur Makaan and Kranti. All these films had a patriotic feel and rhythm attached to it.
Kumar knew exactly how to lure his audiences by blending jingoism with commercial masala, like scantily-clad heroines, catchy music and perfect timing.
I regard Mere desh ki dharti sona ugle as one of the best patriotic songs of all time. Manoj Kumar deserves a round of applause for lighting the lamp of patriotism through his movies.

Bollywood has witnessed a spate of mediocre, funny and worthwhile patriotic films in the last 20 years. The ones that instantly come to mind are Karma, Kranti, Mr India, Henna and Des Pardes.
The new slew of films concentrate more on the technical aspects of filmmaking instead of bringing out patriotism.
In Shankar's Nayak, Anil Kapoor, who turns Chief Minister for a day, tries to clear corruption. The story had merit, but the scriptwriter went overboard with his sense of patriotism.
But nothing can match Aamir Khan's Lagaan. The film combined two magic ingredients into one: patriotism and cricket.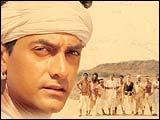 The cast, international-scale production values, the conviction with which the story was told all melded to create one of the best patriotic films of all time. Khan acted superbly; Ashutosh Gowariker's direction was superb. Lagaan gets 9.5 out of 10 from me.
The only other movie that impressed was The Legend Of Bhagat Singh. In this Ajay Devgan starrer, patriotic spirit literally oozed from the screen.
I particularly enjoyed the scene where the young brigade (Bhagat Singh, Sukhdev, Rajguru) that is about to be sent to prison makes a mockery of the British jury. This one gets 8.5 out of 10.
Nothing beats Lagaan which is simply the best.