Home > Movies > Message Board

January 10, 2004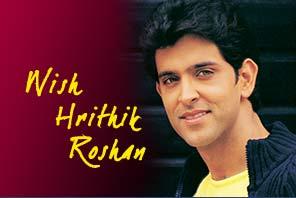 Here is a hero you will look at, more than once, whether you want to or not.
Charisma is something Hrithik Roshan has, in truckloads. And if it is packaged with talent, that much the better.
Now, he is known as the star who had a second coming, with  Koi... Mil Gaya, the blockbuster of 2003.
As he turns 30 on January 10, please join rediff.com in wishing Hrithik Roshan a very happy birthday and a glorious life!
Don't miss:
Happy Birthday, Hrithik!


What do you think about the story?








Read what others have to say:





Number of User Comments: 446








Sub: Best Wishes For Hrithik Roshan

Dear Hrithik, I am a big fan of you. I read your interviews. how you improved yourself & fighted with difficult condition is really great. ...


Posted by Ranveer Singh Thakur









Sub: happy birthday

Hi Hrithik, Many many happy returns of the day...I am special fan of you...i just cant say why i am special...you can treat this as ...


Posted by Rimita









Sub: Birthday Wish

Hello, friend I have seen ur lot of movies and i like to see ur movies every time. May god bless u for more success ...


Posted by iftikhar ansari









Sub: Happy B'day

Hi Hritik Wish you a very Happy Birthday Hope you climb the ladder of success with the Quality movies that You are doing Just show ...


Posted by Navankur Sood









Sub: Best Wishes all of the whole Life

Hi Hrithik Wishing u all the best luck in your future life and have all the good incidents and hope to come in your way ...


Posted by Nilofer






Disclaimer