Home > Movies > Message Board

January 03, 2004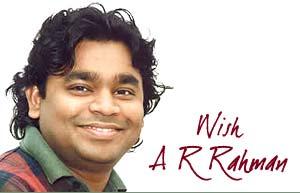 Some think he is a genius. International producers are willing to wait for him for a year to score in their productions.
And A R Rahman's popularity only keeps soaring with time.
He is the man behind the rich melodies of Roja, Kaadhalan, Bombay, Rangeela, Taal, Lagaan and Bombay Dreams.
On January 6, as Rahman celebrates his birthday, we invite your opinion on your favourite Rahman compositions, and why. We would love to hear from you!
And do join rediff.com in wishing the musician a Very Happy Birthday!


What do you think about the story?








Read what others have to say:





Number of User Comments: 180








Sub: Happy Birthday Sir

AR Rahman is one composer that, apparently, will never lose his magic. Sir, i dont know where you get the ideas of your new and ...


Posted by Rachna N









Sub: Happy Birthday

Happy birthday , thanks for all the mind blowing music.


Posted by Arun Muthiah









Sub: Long Live The Genius......

hey.... I dont wanna sound cliched , but the only way we can describe your music is : INDESCRIBBALE . You are the real genius ...


Posted by Nimish Atra









Sub: with Lotsa Luv n prayers

May God bless u to celebrate many many many more Birthdays. Long Live Rahman Long Live Rahmania


Posted by Swapna









Sub: I wish U a very Happy Birthday

Dear Mr. Rahman, I wish U a very Happy Birthday as you've come a long way especially this B'Day brings you a lot of success ...


Posted by anoop v






Disclaimer