Home > Movies > Message Board

February 04, 2004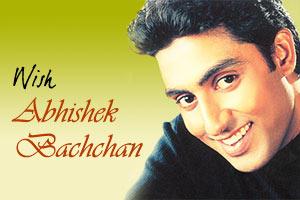 Abhishek Bachchan has had a rough ride in the Hindi film industry so far.
Said to be the dark horse of the industry, Abhishek has had a lot to contend with, the most important being his family name. It is not easy being the son of Amitabh Bachchan.
But Abhishek has his father's tenacity and seems to be detemined to prove his mettle.
The actor turns 28 on February 5.
Here is your chance to wish the star a Very Happy Birthday!


What do you think about the story?








Read what others have to say:





Number of User Comments: 146








Sub: hello

a hello from me may be a big surprise for you coz it's like a hello from ur dream lover(just kidding)


Posted by priyanka









Sub: i love u abhi

hi abhi this is sapna .i luv u abhi so much. plzzzzzzzzzzzzzzzzz can u give me ur email id . just want to chat with ...


Posted by sapna









Sub: hiiiiiiiiiiiiiiiiiiiiiiiii!!!!!!!!!!

Dear Abhishek Uncle I wish you a very belated and advanced happy birthday enjoy ur day and have fun can u please give me ur ...


Posted by Shreya









Sub: I love you Abhishek jee

hello abhi jee....I love you....i really like you more than anyone...plzzzzzzzzzzz i wanna be ur frnd..


Posted by Alivia









Sub: Belated Happy Birthday

Hi Abhishek Just want to wish u Belated Happy Birthday...Hope all yr dreams come true.


Posted by vertika






Disclaimer