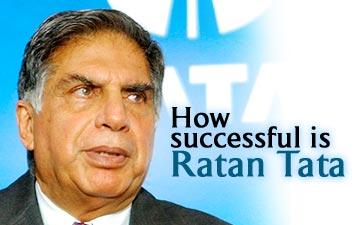 It was a ritual at Mumbai's Taj Mahal Hotel. Two months ago, Ratan Naval Tata, 67, non-executive chairman of the Rs 79,000 crore (Rs 790 billion) Tata group was presiding over the annual group management meeting for 200 of his senior managers, including Tata Sons' directors.
For the past six years, this has been Tata's way of reaching out to his people, telling them where the group is headed, what needs to be done and how they can do it. This year's theme was the global story. And the punch line? Be bold; think big; lead, never follow. "It is Tata's State of the Union address to us," says a manager who has been attending these dos.
Such exhortations are heard more often these days at Bombay House, the Tata group headquarters. It's a decade since McKinsey & Co offered its blueprint for ushering in change. And next year, it will be 15 years since Tata, who is low profile almost to the point of reclusiveness, was made chairman, when his legendary predecessor J R D stepped aside in 1991.
Tata's game plan, according to his managers, was simple -- rationalise the group's business portfolio; deliver a return on investment that exceeded the cost of capital; have a symbolically and emotionally unified brand; and grab new opportunities.
Surely, after taking over, Tata's first job was to see that many of the group stalwarts, who were well past their retirement age, hung up their boots. He brought in new people to strengthen the parent company Tata Sons Ltd, where Tata trusts continue to hold a 66 per cent stake.
FULL HOUSE

Tata company

Acquired company

Acquisition value
(Rs crore)

Year

Tata Tea

Tetley, UK

1,870

Feb-00

Tata Sons (TCS)

CMC Ltd

157

Nov-01

Tata Group

VSNL

1,439

Feb-02

Tata Teleservices

Hughes Telecom India

undisclosed

Jun-02

Indian Hotels

Regent Hotel

415

Sep-02

TCS

Airline Financial Support Services

undisclosed

May-03

VSNL

Gemplex

undisclosed

Jul-03

Tata Motors

Daewoo Commercial Vehicle, Korea

465

Mar-04

VSNL

Dishnet DSL's ISP division

270

Mar-04

TCS

Aviation Software Development Consultancy

4.02

Mar-04

TCS

Phoenix Global Solutions

undisclosed

May-04

Tata Steel

Steel business of NatSteel

1,313

Aug-04

VSNL

Tyco Global Network

13

Nov-04

Tata Motors

Hispano Carrocera

70

Feb-05

VSNL

Teleglobe International

1,040

Jul-05
He
then went about making control secure from raiders. Today, TSL has a 26 per cent stake in most of the group's 32 listed companies, up from 3 per cent during JRD's days. Today, Tata's empire is still unwieldy.
With seven business sectors and an official list of 91 operating companies (a group insider put the total at 300), Tata still employs around 220,000 people. "We have too many companies and focus is necessary," says a senior Tata manager.
But what Tata has already done is hauled his heavy engineering-to-services conglomerate into newer businesses (telecom, passenger cars, retail, biotech); turned around and restructured flagships (Tata Steel, Tata Motors) that once operated in protected regimes; and shed some businesses that no longer fit into the corporate vision or failed to yield requisite results (Merind, Goodlass Nerolac, ACC, Lakmé, Tomco).
Besides, he took crown jewel Tata Consultancy Services (TCS) public last year when the group obtained SEBI nod for the TCS IPO. The Tata group is going global with a vengeance and acquiring businesses as if there's no tomorrow -- half its 14 acquisitions were in the past year.
How successful has Tata been in implementing his strategy? How do you measure the results of a process imbued with many qualitative characteristics?
Figure it out
Consultants and managers within the group and outside believe Tata has done a decent job. "The group is more aggressive today than it was a decade ago," says a merchant banker. Adds Ishaat Hussain, finance director, TSL, "There is a certain electricity in the group."
In cold numbers, the results are telling. A study by Business Standard's Research Bureau of the top six Tata companies shows they account for 85 per cent of the group's revenues and 90 per cent of the profits. Also, new technology businesses notch up 50 per cent of the group's Rs 145,579 crore (Rs 1,455.79 billion) market capitalisation on July 19.
In the past five years, the cumulative investments in the Big Six touched Rs 22,776.12 crore (Rs 227.76 billion), with a compounded annual growth rate (CAGR) of 1.49 per cent.
Add to this the upturn in many of its businesses like steel and auto in the same period, and both the return on capital employed (ROCE) and return on net worth (RONW) for many of the companies impacted positively.
Take two of the group's most capital intensive businesses -- auto and steel. Since 2002, Tata Steel's ROCE galloped from 2.51 per cent to 22.13 per cent in 2004. Its RONW jumped seven fold to 38.67 per cent. Tata Motors' negative 1.13 per cent ROCE in 2002 sped to 16.71 per cent last year with its RONW tipping at 22.57 per cent.
Says Sanjiv Anand, regional director, Asia/Middle East, Cedar Consulting, "The primary responsibility of a CEO is to deliver on the financial performance of the company. The non-financials become important in order to achieve and sustain the financial parameters."
Hussain says today, Tata Steel and Tata Motors along with TCS chip in 75 per cent of the group's revenues and profits.
What brought about these results? "Many of its flagships slugged it out with competition admirably," says a consultant. Tata Steel has become the world's lowest-cost producer. Tata Motors virtually breasted the tape with its indigenously produced Indica and Indigo cars. The TCS scrip closed last Wednesday at Rs 1,308.
Today, passenger cars drive 52.5 per cent of Tata Motors' revenues, up from 49.5 per cent three years ago. Its market share in commercial vehicles has gone up from 31.98 per cent in FY04 to 34.59 per cent last year. In comparison, competitor Ashok Leyland saw its market share skid from 17.47 per cent to 15.19 per cent.
Granted, there are laggards. Indian Hotels saw its ROCE plunge from 8.31 per cent five years ago to 2.68 per cent last year. Tata Tea is down from 11.32 per cent to 7.97 per cent.
Does this mean that the group's success is due to the cyclical upturn that coincided for its firms? Perhaps. "That's all part of being in business," says an investment banker.
Seize the world
In fact, to hedge the cyclical nature of some of his flagships, and with growing competition in the domestic market, most of the Tata companies are going global. Apart from bagging orders from overseas, they are acquiring foreign companies.
"Globalisation is the way to go for us," Tata said recently. "A global footprint is very important for the group to remain competitive," adds J J Irani, the erstwhile managing director of Tata Steel.
So even as it picked up Tetley, UK, five years ago, it has accelerated its shopping spree in the past one year. In March 2004, Tata Motors acquired the heavy commercial vehicle business of Daewoo Motors in Korea and followed it up with design house Hispano Carrocera.
Six months later, Tata Steel acquired Singapore's NatSteel, and Videsh Sanchar Nigam Limited picked up the world's most extensive submarine cable systems company Tyco Global Network in the US.
TCS acquired Phoenix Global Solutions and more recently, Indian Hotels extended its footprint in the US by bagging a management contract for the Pierre Hotel in Manhattan.
There have been misses as well, like the more recent Tata Chemicals' bid for Egyptian Fertilisers. Or Tata Motors' Rover deal in Europe, which fell through. But these efforts, according to industry experts, still do not single out the group as being aggressive.
"Despite incumbency, it is not able to make the best of opportunities. Look at telecom. An unknown Mittal comes and grabs the market," says the head of a leading consulting firm.
He also points out to the group's late start into biotech. Adds a senior Tata manager, "Our decision-making is loose. Everyone is not progressing on the front equally."
Hussain, however, concedes that telecom is a bigger challenge. "Just don't go by the numbers. We believe that in the long term the quality of service and customer care will be the key to survival," he says.
The people paradox
Human resource is another issue. That Tata has personally led the company for almost 15 years and set up the Tata Business Excellence Model to trade best practices, hasn't improved his reputation.
It is felt that the leadership at most of the Tata companies lacks the dynamism of many of its competitors and is not demanding of its managers.
"We are organised more like a telephony model system, which is not one of command-and-control, but one where multiple activities are happening," says a Tata manager.
Could it be its unusual group structure, where the parent company (TSL) is unlisted while its offspring are? Perhaps, say consultants. But some Tata managers are candid about what needs to be done. "Building a future cadre of leadership is necessary for us. But, until now, job rotation was unheard of in the company," reveals a Tata manager.
So where does the group go from here? "We have a solid middle class that gives us longevity and staying power. Everybody is being challenged. We want to be a truly international company," says a Tata Sons director.