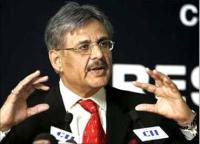 Yogesh Chander Deveshwar has been reappointed as ITC chairman for another five years, a move that will make him the longest serving chairman of the company.
The ITC board has cleared his extension as a chairman with effect from February 5, 2012, for a period of five years.
Within this tenure, however, he may become a non-executive chairman to pave the way for succession planning, in which case the board will take a fresh look at his remuneration.
A resolution to this effect will be placed before shareholders for approval at the company's forthcoming annual general meeting.
An ITC spokesperson confirmed the annual general meeting notice, but refused to divulge further.
Even though ITC does not have a retirement age, Deveshwar's extension has been the subject of discussion since his five-year term was close to ending.
In a television interview, Deveshwar had responded to a question on his succession that the board would decide on this.
During
his tenure, the company made several diversification moves that transformed a tobacco company to a fast moving consumer goods company.
Non-cigarette FMCG, agri-business and information technology were primarily the new initiatives spearheaded by Deveshwar.
When Deveshwar took over as chairman in 1996, the company's topline was Rs. 5,000 crore (Rs. 50 billion), which has grown nearly six times since then. Post-tax profit during the period grew from Rs. 260 crore (Rs. 2.6 billion) to about Rs. 4,987 crore (Rs. 49.87 billion) during the same period.
With the extension of Deveshwar's tenure, the company will now have enough time on hand to chalk out a succession plan.
ITC is already in the process of readying to create its next generation of leaders. Last year, Kurush Grant, Nakul Anand and Pradeep Dhobale were inducted on the ITC board.
The board level changes that started in early 2010 were after almost after a decade. 
ITC has a three tier management structure - board of directors, corporate management committee and divisional management committee.