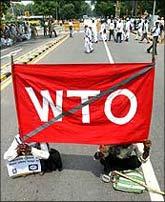 Trade talks resumed at the World Trade Organization headquarters at Geneva on Monday, 10 days after 30 ministers broke the impasse on Doha negotiations, aimed at reaching a global pact for opening $32 trillion international commerce.
Senior officials from key nations began their preliminary discussions, mainly on the contentious issues relating to the farm subsidies in rich nations and livelihood concerns of farmers in developing countries, which are also seeking flexibilities in protecting their fledgling industries.
"Besides the multi-lateral talks, negotiators will engage themselves in a lot of bilateral meetings in the next few days to assess whether reaching a common ground is possible," an official said.
The hardcore negotiations will kick off on Tuesday at a meeting to be chaired by Director General of World Trade Organisation (WTO) Pascal Lamy.
India's negotiating team is headed by additional secretary in the commerce ministry D K Mittal.
The talks are resuming after a gap of 14 months. At Geneva in July 2008, the ministers failed to reach a consensus as India remained steadfast on protecting its farmers and the US seeking higher market access for its agri products in advanced developing countries like India.
The Doha Round of negotiations for liberalising the world trade launched in 2001 was to conclude in 2005. However, differences between the rich and developing counties have come in the way of reaching a global trade agreement.
The WTO, which has predicted a 10 pert cent fall in international trade due to the economic crisis, has called upon the G-20 leaders to 'undertake a stronger commitment to open markets and make concrete their call to conclude the Doha Round in 2010'.
Leaders of the G-20, a grouping of rich and the advanced developing countries, will meet at Pittsburgh later this month.