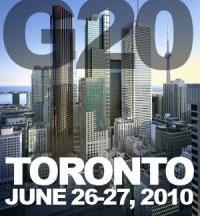 As world leaders are arriving in Toronto for the G8 and G20 summits, which get underway from Saturday with focus on economic recovery and global development, the world has great hope from India and China.
India would renew its push for reforms at international financial institutions like the IMF, which would give it and other emerging economies a greater voting share and oppose a single global bank levy designed to insure against failing institutions, an IMF proposal backed by Germany and France at the G20 Summit.
The world, however, is expecting more from India. Given that most developed economies are fragile, there's high respect for the two big economies that are actually growing - India and China where growth seems robust.
Given its current economic advantage, Dr Bhausaheb Ubale, a noted economist, say this year's G20 may present an opportunity for India to position itself as a global leader.
Prime Minister Manmohan Singh will arrive in Toronto on June 26 for G20 Summit where he will hold talks with his Canadian counterpart Stephen Harper and sign a bilateral civil nuclear cooperation agreement that would allow India to secure uranium, nuclear equipment and technology to meet its energy needs.
Both leaders would also hold talks on a host of bilateral, regional and multilateral issues, officials said.
Apart from cooperation in civil nuclear energy, both countries expected to sign an MoU for cooperation in mining, an MoU for cooperation in higher education, an MoU for cooperation in culture and a social security agreement, official sources said.
Singh's delegation will include the Deputy Chairman of the Planning Commission Montek Singh Ahluwalia, who is the G20 Sherpa from India.
In addition, there will be other senior officials attending as part of prime minister's delegation including the National Security Advisor Shiv Shankar Menon and Foreign Secretary Nirupama Rao.
Canada has also invited Spain, Netherlands, Malawi (as chair of the African Union), Ethiopia (which holds the chair of NEPAD), and Vietnam (as the chair country of ASEAN), to the G20 Summit.
In addition, the Secretary General of the United Nations, the president of the World Bank, the managing director of the IMF, the director general of the WTO, heads of the ILO, the Financial Stability Board, etc., are likely to be present.
The prime minister will arrive in Toronto on June 26th and has a very busy schedule. The G20 Summit starts with an official welcome and reception followed by working dinner by the Canadian Prime Minister Stephen Harper which would attended by over 400 dignitaries.