The oil ministry is likely to ask the Cabinet to decide on proposals of Reliance Industries and Cairn India to drill exploration wells in already producing oil and gas fields.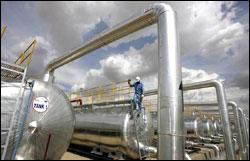 While RIL has proposed to drill an exploration well on the flagging D1 and D3 gas fields in the KG-D6 block to study reservoir characteristic, Cairn wants to drill new probes to help raise output from the Rajasthan block to 300,000 barrels per day from 175,000 bpd.
The ministry was in agreement with the operators on the need to drill exploration wells within a producing oil or gas field so as to add more reserves and increase production life but it does not want to take a decision on its own, official sources said.
The Directorate General of Hydrocarbons (DGH), the ministry's technical advisory arm, had few years back taken a view that exploration is not permitted within an area that has been delineated after discoveries for production of hydrocarbons.
As a way out, the ministry wants to frame a policy for allowing exploration in a development area and will put it up to the Cabinet Committee on Economic Affairs for approval, they said.
Globally, exploration is permitted in fields that are under production so as to keep adding new reserves to replinish ones that have been produced. In absence of rejuvenation, the fields will terminally decline from the day output starts.
The same has been followed in fields in Assam and Mumbai offshore.
Sources said the CCEA would be asked to consider allowing exploration during mining lease and production stage.
Cairn believes that production from its prolofic Rajasthan block can reach 300,000 bpd or 15 million ton per annum and has made an application to the government seeking permission to explore within the 3,111 square kilometer mining lease covering 25 oil and gas finds.
It has even given up its rights under Production Sharing Contract (PSC) by proposing that it will not seek recovery of cost of the exploration well unless it is successful i.e., it results in a commercial discovery. Cost of a dry or no discovery well will be borne by the company.
RIL however does not believe in surrendering its rights guaranteed under PSC - that is to recover all exploration and production cost from sale of oil or gas before sharing profits with the government.
But to give government the comfort, it has as a one-time exception agreed to drill the exploration well 'MJ1' at its sole risk and recover cost only if the discoveries are assessed to be commercial.
Sources said RIL believes that exploration well is clearly allowed in any mining lease area under law and the Production Sharing Contract (PSC) also supports it.
Cairn also believes that the PSC defines a development area as one that not just includes a discovery or a group of discoveries but also "area of potential petroleum
deposits".
These deposits can only be exploited if exploration is allowed within the mining lease.
Dhirubhai-1 and 3 (D1&D3) fields in the east offshore KG-D6 block of RIL have seen output fall from 53-54 million standard cubic metre per day achieved in March, 2010 to about 23 mscmd this month. Together with 6 mscmd output from MA oilfield in the same block, KG-D6 is producing about 29 mscmd.
This output is short of 80 mmscmd production level that was envisaged in the field development plan approved in 2006.
Vedanta Resources Chairman Anil Agarwal had on July 6 written to the Prime Minister Manmohan Singh seeking his intervention so that his group firm Cairn India is allowed to explore oil in the prolific Rajasthan block.
"The Rajasthan Production Sharing Contract (PSC) and the mining lease have enabling provisions that allow carrying on exploration in development area; however, we have been asked to obtain government approval," Agarwal, whose group had last year acquired Cairn India, wrote to Prime Minister on July 6.
The 3,111 sq km development area was ring-fenced from an exploration area more than three times its size after discoveries were made.
"As exploration is continuing in other producing blocks in the country, we request government approval for exploration in Rajasthan to enable us to achieve the full production potential," Agarwal wrote.