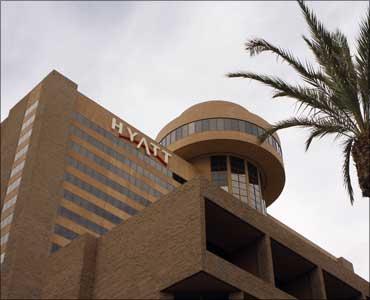 Chicago-based global hospitality company Hyatt Hotels Corporation is on an expansion spree in India. The company believes India could become the greatest market for hotels in the coming years.
Recently, Hyatt announced its expansion plan with the launch of 120 new hotels globally. Earlier, the company has formed a joint venture with Emaar MGF and HP India Holdings Ltd, an indirect subsidiary of Hyatt International Corporation, for developing around 20 'Hyatt Place' hotels across India within 10 years.
Ratnesh Verma, senior vice president (real estate and development), South Asia, spoke to Deepa Menon on the company's expansion plans in India. Excerpts:
Hyatt has lined up about a quarter of their new properties in India. Are you so confident about the Indian market?
We are very optimistic and our strategy is based on a long-term view of India. The market and economic fundamentals are strong here. For Hyatt, India will be one of the greatest hotel markets in the world.
Our belief in the Indian economic growth remains strong and firm.
What are your plans for expansion?
Hyatt has been present in the country for the past three decades. We will expand into 15 new cities, including Bangalore, Chennai, Hyderabad and Pune over the next five years. The company has also outlined growth plans in cities like Delhi, Goa, Kolkata and Mumbai.
We plan to build our portfolio of properties across India and introduce all of our six brands into this market.
The company has also chosen India as the first location outside of the United States to introduce its 'Hyatt Place' brand. The brand will be built in Gurgaon, Hyderabad, Indore, Lucknow, Mangalore, Mundra and Mysore.
Are you looking at heritage buildings for your expansion?
Though all the current projects are new developments, the company is also considering the option of converting the existing properties, including heritage buildings, for the purpose.
Our current development line-up is a portfolio of around 30 properties. We will go ahead with heritage properties only if we can create a product with facilities that will complement one of our six brands. Maintaining brand integrity is most important to us.
What is the percentage of growth you are expecting from India?
Our current contribution to the global performance is relatively small. However, we expect this to be significant in the future as more hotels become operational.
Will your upcoming projects be eco-friendly?
Absolutely. We are very much committed to sustainable growth.  Each of our properties in India supports a number of environmental causes and Hyatt has a company-wide commitment to minimize the environmental impact of our operations through measurable actions. 
The Grand Hyatt Mumbai is an example for this. We have a programme headed by a core 'green team' that is focussed on constantly identifying and implementing ways of saving energy and natural resources used by the hotel in its operations.
One of the core priorities of this team is to create a sense of responsibility amongst all associates - getting people to be environmentally aware and conscious.
Are you confident that you can be successful in Tier II and Tier III cities?
We believe that a large part of India's growth will be driven on domestic consumption and the resultant growth of Tier 2 and Tier 3 cities. A very good example of this has been the economic growth in cities like Bangalore, Hyderabad, Pune, etc. over the last 10 years.
What we refer to as Tier 3 cities today may be Tier 2 of the future and similarly some of the Tier 2 cities will become major business and economic hubs in the future. This is how emerging markets behave both at the macro and micro level.
We have invested much time and resources in understanding each market and identifying the kind of product and brand most suited to that market today and the mid / long term.
We believe in the core economic fundamentals and their sustainability in these markets. We are currently committed to introducing various Hyatt brands in 15 cities across India.
Image: A Hyatt Hotel in Phoenix, Arizona. Photograph: Joshua Lott/Reuters