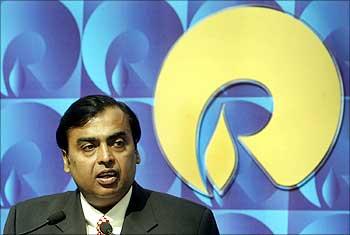 Reliance Industries chairman and managing director Mukesh Ambani has been elected to the Foundation Board of the World Economic Forum.
Another person on Indian origin, PepsiCo chairman and chief executive officer Indra Nooyi, is already a member of the WEF Foundation Board.
In a statement, Klaus Schwab, founder and executive chairman of the WEF, said, "We are honoured to have three distinguished new members of the Foundation Board. Mukesh Ambani will bring an extraordinary level of business acumen and his commitment to the ideals of the Forum. He has played a key role, especially related to the integration of India into all our activities. Ben Verwaayen (Alcatel-Lucent CEO, France) has been a committed member of the WEF for many years. His insightfulness and energy will be invaluable to the board. The experiences of Zhu Min (IMF special adviser) at the highest level of government and the financial sector will be similarly a great asset."
Klaus Schwab is the chairman of the WEF Foundation Board. Josef Ackermann, chairman, Deutsche Bank, Germany, is the vice chairman of the Foundation Board, while Kurt Alig, chairman, Arcadia Treuhand, Switzerland, is the secretary of the Foundation Board.
The other members of the WEF Foundation Board include:
Queen Rania Al Abdullah of Jordan;
Kofi Annan; former secretary-general of the United Nations;
Peter Brabeck-Letmathe, chairman, Nestle, Switzerland;
Victor Chu, chairman and chief executive officer, First Eastern Investment Group, Hong Kong SAR;
Michael Dell, chairman and chief executive officer, Dell, USA;
Niall Fitzgerald, deputy chairman, Thomson Reuters, the United Kingdom;
Orit Gadiesh, chairman, Bain & Company, USA;
Carlos Ghosn, chairman and chief executive officer, Renault-Nissan Alliance (France and Japan), France;
Susanne Hockfield, president, Massachusetts Institute of Technology, USA;
Christine Lagarde, minister of economy, finance and employment of France;
Maurice Levy, chairman and chief executive officer, Publicis Group, France;
Joseph Schoendorf, venture partner, Accel Partners, USA;
Peter Sutherland, chairman, Goldman Sachs International, United Kingdom;
Heizo Takenaka, director, Global Security Research Institute, Keio University, Japan;
Ernesto Zedillo Ponce De Leon, President of Mexico and director, Yale Center for the Study of Globalization; and
In addition, Peter Freire will be joining the WEF as managing director, heading its new Global Agenda Partnership. Lord Malloch-Brown will be leaving the WEF after a successful year as vice chairman and senior adviser of the WEF's Global Redesign Initiative.
The WEF Foundation Board is composed of leaders from business, politics, academia and civil society who strongly identify themselves with the WEF's mission to improve the state of the world and who make a valuable contribution to this mission through their involvement.