The downward trend in rupee is definitely a good news for foreign players looking at acquisition opportunities in India and is likely to result in rise in inbound transactions, say experts.
The valuations on inbound deals would be attractive especially in dollar terms for international companies ready to buy into India as rupee has slid around six per cent over the past month.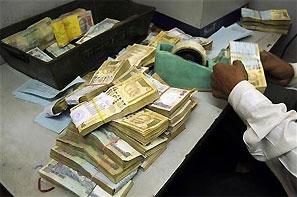 "For multinational companies, this could be a good time to raise their stake in Indian subsidiaries including listed entities such as the recent Unilever's buyback offer for its Indian subsidiary," Mergermarket India bureau chief Mithun Varkey said.
Echoing similar sentiments, Harish HV - Partner, India Leadership Team, Grant Thornton India, said: "The valuations on inbound deals would no doubt be attractive especially in dollar terms for International companies to buy into India if they are already convinced about investing in India and it would give a further push to their plans."
Cross border deal value (especially inbound deals) has been fairly subdued so far, potentially driven by slowdown in India growth rates. During May, there were 8 inbound deals worth $102 million, a decline of 49.50 per cent from the year ago period.
In the short term, though rupee depreciation would be helpful for inbound deals, from a longer term perspective an improvement in economic environment is necessary for a rise in inbound deals.
"A depreciating rupee in the long run will have an impact on the India growth story and its market attractiveness. This could lead to players re-evaluating India opportunity and favouring countries with more favourable macro fundamentals," PwC India Executive Director N V Sivakumar said.
Sivakumar further said that "for any strategic investor, the benefits of fall in rupee in the short-term are realizable only if long-term growth forecast, and hence stability and appreciation of rupee, can be restored soon."
Experts however said that the effect of depreciating rupee on the deal market should be evaluated "holistically" as persistent decline of rupee does not augur well for India's already stressed fiscal deficit and external debt figures.
Moreover, according to Grant Thornton's Harish, "foreign companies are worried about the lack of further liberalisation, slower growth, aggressiveness taxation approach, the multiple scams and no visible improvement in the ease of doing business."