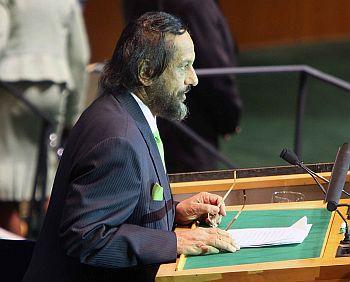 Nobel laureate Rajendra Pachauri, who is head of the United Nations Intergovernmental Panel on Climate Change, on Tuesday made an impassioned appeal to over 100 heads of states and governments to act urgently to mitigate green house gas emission in order to save the planet.
"If those in this august gathering do not act on time, all of us would become leaders and citizens of failed states," Pachauri said while addressing the Climate Change conference at the United Nations.
Reeling out statistics on how the absence of mitigation will ruin the planet's natural resources and create environmental disaster such as increasing frequency of hot extremes and heat waves, a rise in sea level and increasing tropical storms, Pachauri called for adopting concrete mitigation policies by all countries.
He said the humankind would be failing in its sacred duties to protect this planet that gives lives to all species if it does not act now.
Noting that mitigation of emission is essential, Pachauri said the cost of the mitigation by 2030 will not be more than 3 percent of the world's GDP. In other words, he said, the so-called prosperity expected in 2030 would be postponed just by a few months.
He also drew the attention of the delegates to the benefits that mitigation carries, including larger employment and health benefits and stable agricultural production.
"Science leaves us with no space for inaction now," he said.
Earlier UN Secretary General said pressed the world leaders at the largest ever gathering on climate change to speed up their action on global warming and preserve the planet for future generations.
"Climate change is the pre-eminent geopolitical and economic issue of the 21st century," he stressed. "It rewrites the global equation for development, peace and security," he added.
The Secretary-General countered claims that addressing global warming comes at too high a price tag. "They are wrong. The opposite is true. We will pay an unacceptable price if we do not act now," he said.
He urged developed nations to take the first steps forward, with developing nations also needing to make strides. "All countries must do more – now," he added.
Image: Rajendra Pachauri speaking at the UN conference on climate change
Photograph: Jay Mandal