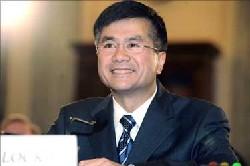 Concluding his trip to India, US commerce minister (secretary, in official parlance) Gary Locke said the Indian government assured him that tariff and non-tariff barrier issues faced by American goods and services would soon be addressed. H also said the visa issue was for a limited period and wouldn't impact small and medium enterprises.

Indian commerce and industry minister Anand Sharma has been emphasising on a comprehensive partnership agreement or a free trade agreement (FTA) with the US. Is the US also keen on an FTA with India?

It is the US Trade Representative that leads on trade negotiations in general. However, FTAs take many years to get concluded. There are many other mechanisms within which India and US can sort their issues in a much faster way, than dragging them under an FTA.

Is the US planning to bring the Generalised System of Preferences programme back? Which all Indian products will be included in that?

It did expire and we do understand the need and importance to bring it back. However, the proposal is pending with the Congress (the US legislature) and it would be renewed in its existing form.

When is the Congress expected to respond on this?

It is very difficult to get a timeframe from the Congress.

I believe India features prominently in the National Export Initiative policy that President Obama emphasised on during his visit last year. What would be your policy towards India as part of that initiative?

India has a variety of needs as far as US exports are concerned. It ranges from medical devices and food products to defence equipment. So, we have great potential to increase our exports here.

I happened to meet a group of importers as well during this trip, where I was told there is a huge demand for 'Made in USA' goods and services in India, due to their reliability and high quality. They also told me that some of the products that India exports are not needed, as there are shortages of those within the country.

What would you have to say on some of the protectionist measures adopted by the US recently that impacts India directly?

The US is more open than any other market in the world. The flow of FDI (foreign direct investment) from the US to India is enormous. The Indian-American entrepreneurs are the largest minority in the US.

We welcome all companies from India to come and invest and do business there. We have almost no restrictions in any sector at all. However, we expect similar reciprocity in India for our apples, pistachios, helicopters, and disaster relief materials, besides other products. We do not restrict such items from entering the US markets.

What about the recent visa issue which hampers Indian businesses, especially in the information technology sector?

The issue hampers only a narrow set of companies and sector. It does not impact the small and medium sector at all, who do large business in US.

However, we do understand how sensitive it is here and we understand those concerns. But it is a temporary measure and it expires in 2015.

You have raised concerns in this visit about high tariffs and non-tariff barriers imposed by India on US goods and services. What assurance did you get from the Indian government, and are you satisfied?

The Indian government recognises our problems and understands the concerns we face while doing business here. India has done a great job in opening its markets to the world.

But it needs to emphasise more on IPR (intellectual property rights) issues. And, if the country has to sustain the innovation and growth taking place now, it needs to open up more.

I have had good discussions with the government on tariffs and non-tariff barriers. They did give a timeline but assured us these concerns would be addressed soon.