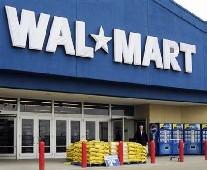 US retail giant Walmart is learnt to be in talks with Sunil Mittal-led Bharti group to explore ways to exit the six-year-old 50:50 joint venture in cash-and-carry (wholesale) business.

This could mean an end to the talks for a possible partnership between the two firms in the multi-brand retail space -- less than a year after 51 per cent foreign investment was allowed in the sector.

A corporate lawyer close to the development said the American retailer was discussing the sale of its equity in the JV with Bharti.

According to him, buyback of Walmart shares by Bharti was imminent.

"Walmart is not happy with the way the JV is progressing," he said.

According to a source in the know, the ongoing Enforcement Directorate probe into Walmart's $100-million March 2010 investment in buying compulsory convertible debentures in Cedar Support Service, a company owned by Bharti Enterprises that controlled Bharti Retail, is seen as the biggest hurdle for the JV.

Walmart's investment in Cedar is being investigated for alleged violation of the Foreign Exchange Management Act, as FDI in multi-brand retail was not allowed in 2010.

Without getting a clean chit on the ED probe, it's tough for the Walmart-Bharti JV to proceed, it is believed.

Replying to a Business Standard questionnaire, a Walmart India spokesperson said: "We've made no announcements and don't comment on rumours or speculation."

She added India was an important market for Walmart, "and we continue to study the implications of the new FDI policy on our business".

The spokesperson was replying to specific questions on whether Walmart was talking to Bharti to exit the cash-and-carry JV and if the two had decided to part ways in multi-brand retail, too.

A Bharti group spokesperson said: "The company does not comment on speculation." Group chairman Sunil Mittal did not reply to a text message sent to him.

A person familiar with the workings at the organisation pointed to the top changes at both Bharti Retail and Walmart India as indicative of things to come.

The strength of Ramnik Narsey, who was recently named the interim chief of Walmart India, replacing Raj Jain, is finance, and not operations. Even Viresh Dayal, who has been running the show at Bharti Retail after COO Mitch Slape returned to Walmart US, is a commercial/finance person.

"That may be a sign of battle lines being drawn. Perhaps, the talk is more on valuation, returns and sale, rather than on expanding the business and opening stores," he said.

In fact, the Bharti-Walmart cash-and-carry JV, branded as 'best price modern wholesale', has not opened even a single outlet in 2013.

It has 20 stores across the country and was running losses pegged at Rs 372 crore (Rs 3.72 billion) as of December 2012.

Bharti group's retail venture EasyDay, to which Walmart gives back-end
support, has also stopped expanding this year.
It has 225 stores in the country.
Walmart was earlier contemplating buying into Bharti Retail's EasyDay to operate the stores jointly.
Bharti Retail, which had accumulated losses of Rs 1,522 crore (Rs 15.22 billion) as of December, had reported net loss of Rs 538 crore (Rs 5.38 billion) on revenues of Rs 1,528 crore (Rs 15.28 billion) for the year ended December 2012.
Walmart veteran Mitch Slape, who was earlier brought as Bharti Retail COO, was meant to give a direction to the proposed multi-brand venture.
But, in a sudden development, Slape is now moving back to Walmart US, giving the partnership another jolt.
"Questions are being raised on the continuity of the venture now," pointed out another insider.
Even the fact that Walmart is not planning to convert its $100-million convertible-debenture investment into equity in a Bharti company by September 30, the scheduled deadline for the conversion, is a giveaway, analysts say.
Also, Pankaj Madan, a senior Bharti-Walmart executive who was among the five suspended in connection with an internal anti-corruption probe, was recently inducted into Bharti Airtel -- in a step that some called a face-off between Bharti and Walmart. Madan will be part of the Bharti Airtel's Africa operation.
But, industry watchers argue it's a complex deal for both Walmart and Bharti.
Whoever buys a stake in Bharti Retail for a JV in multi-brand retail may have to pick the 50 per cent cash-and-carry share currently owned by Walmart. Bharti Retail is unlikely to go it alone in the retail business, as it is not seen as its area of expertise.
Walmart, too, may have few choices in the Indian market if it wants to join hands with another retail player.
There already is a buzz on who Walmart could tie up with -- it was believed to be in active negotiation with the Future group for a deal a few years ago.
Political uncertainty and elections slated in the coming months, besides the condition of state-wise approval to retail foreign direct investment and tough sourcing conditions, were among the other roadblocks for retail chains, including the foreign ones, experts said.
Also, the challenging global retail environment might force the likes of Walmart to focus on existing key markets.
END OF THE ROAD?
2007: Walmart and Bharti Enterprises formed the cash-&-carry JV; the first store was opened in 2009
20: The number of outlets Bharti-Walmart operates (no new store opened in 2013)
2008: Bharti Retail, which has over 225 stores at present, opened its first store (there hasn't been any expansion this year)
Main hurdle: The ED probe into Walmart's $100-mn investment in the Bharti group in 2010