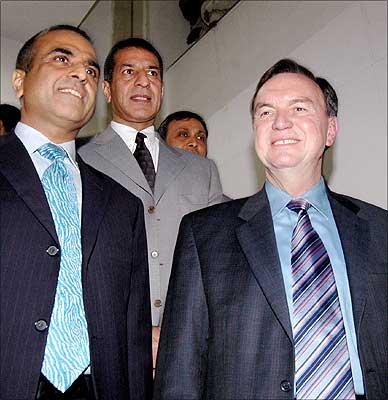 With his Mumbai sojourn,Wal-Mart Vice-Chairman Michael Duke gave enough signals that Wal-Mart is testing waters before it actually enters the organised retail in India.
Duke arrived in the city on Wednesday night to finalise the global retailer's proposed retail foray with the Bharti group.
In a bid to understand the retail game in the city, Duke went around the retail landmarks, including Inorbit Mall, Hypercity, Spencers, Crossword in the Malad suburb.
Earlier in the day, he checked out at 7.30 am from a hotel and most of his itinerary was kept under the wraps until he reached the shopping venue.
He spent 30 to 40 minutes in each of the places, engaging himself in finding the nitty-gritty about the place, categories and various sections.
Asked about his visit, Duke said, " I came here to see how the market works. Indian market is very exciting, thanks to consumers. We can definitely offer better prices to Indian consumers."
Bharti Joint Managing Director Rajan Mittal, Shoppers' Stop CEO Govind Srikhande and other Bharti officials accompanied him during the visit. Duke also held a closed-door meeting with Bharti officials.
Duke's visit has already evoked angry protests all over the country by trade unions and small retailers. In New Delhi, nearly 100 demonstrators shouted slogans against Wal-Mart and took out a protest march on Thursday.
On Wednesday, various organisations including the Federation of Associations Of Maharashtra, India FDI Watch Campaign held a meeting to protest the entry of Wal-Mart.
A Wal-Mart official said the visit was a part of the global retailer's strategy to understand the sector.
She said, "We see a hue potential in the supply chain operations in the country. There are many suppliers and we will leverage on that strength."

On asked whether the retailer would go for a centralised distribution like the way it did in China, she said, "Each country needs a separate approach. We are studying the suitable model of back-end operations for the country."
On Friday, Duke is scheduled to meet Commerce Minister Kamal Nath, followed by internal meetings with Bharti officials, part of his two-day visit to the country.
Mittal said, "Duke came here to discuss business plans. The final blueprint of our retail strategy will emerge very soon." Bharti had said earlier that it would invest $2.5 billion by 2015 to build hypermarkets, supermarkets and other stores.
A Wal-Mart spokesperson termed Duke's visit a routine business visit. "Duke is visiting India in order to learn more about the market first-hand and to further explore the  wholesale cash-and-carry business. This is a routine business visit.
"No business announcement regarding our specific plans will be made during this visit. We are conducting business studies concerning the feasibility of investing in establishing backward linkages with suppliers and farmers to help people live better lives and in India we believe that this can be done through an efficient supply chain," the spokesperson said.
"A cash-and-carry wholesale operation also has the potential to provide much needed support to small business owners and retailers by selling them quality merchandise at competitive prices," the spokesperson added.
On the opposition from the trade groups and political parties, Mittal said they were partnering with Wal-Mart only in the back-end operations including supply chain, logistics and cash and carry.
"Tie-up with Wal-Mart has nothing do with front-end. Bharti will be entirely responsible for that. We will finalise blueprint of our retail strategy soon," the spokesperson added. -- Raghavendra Kamath / Business Standard
(Above) Wal-Mart vice chairman Mike Duke (right) with Bharti Enterprises chairman Sunil Mital and managing director Rajan Mital (centre) after meeting deputy chairman of the Planning Commission Montek Singh Ahluwalia in New Delhi on Friday. Photograph: Sondeep Shankar/ Saab Pictures