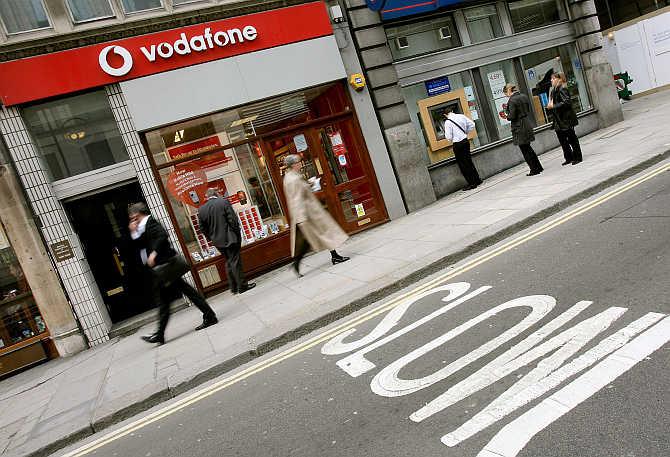 Vodafone India, the nation's second-biggest telecom firm, is planning to invest Rs 7,100 crore in the next 2-3 years, mainly on rolling out 3G networks.
This amount will be in addition to Rs 4,000-6,000 crore (Rs 40-60 billion) annual investments the company has been making in recent years.
The investment will be part of Project Spring under which Vodafone Group will invest GBP 7 billion by March 2016, to establish stronger network and service differentiation in major global markets.
"About 10 per cent (of GBP 7 billion) in the 2-3 years, depends also on what is available... The investment will be above the normal level of investment we would have done so it's like catch up investment," Vodafone India MD and CEO Marten Pieters told PTI.
The company has been investing around Rs 4,000 crore to Rs 6,000 crore every year to expand operations in the world's second-biggest mobile phone market. Pieters said the investment will be made in three things -- retail network, 3G rollout and building connectivity.
"...a bit will be in retail, big part will go for the roll out of 3G and the third part is what we call the backhaul, meaning the connectivity," he added. Asked about the investment climate in the country now, Pieters said it has improved but there still are things which need to be decided.
"We think the environment has improved but a lot of it is still undecided. It looks better but we are waiting for rules around spectrum pricing, we are waiting for the M&A rules, we are waiting for the rules for the auction. So we don't know (yet). We will only know when the outcome is there, but so far so good," he said.
He added, however, that more spectrum should be made available to the operators. "We think there needs to be a lot more spectrum made available and then we will see next wave of investment because you can talk about investment climate but you also need to have something to invest in," he said.
Pieters said the company has invested about Rs 55,000 crore (Rs 550 billion) in telecom networks in the past six years. UK-based Vodafone has around 154 million subscribers in India, and broadly 18 per cent of the Indian mobile market as per August data. It is country's second-biggest telecom company in terms of user base.