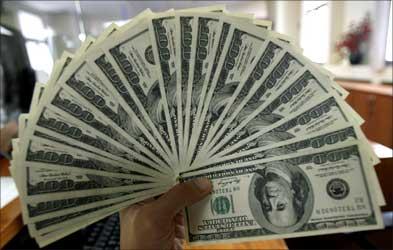 Investments by global venture capitalists in India doubled to $182 million (about Rs 846.6 crore) in the second quarter this year compared to the year-ago period, with the services industry attracting the lion's share of the funds, a study said.
According to Dow Jones VentureSource, a VC industry tracking firm, investments grew in almost every venture hub globally in the April-June quarter, a sign of recovery in the global economy.
"In India, venture capitalists invested $182 million (about Rs 846.6 crore) in 23 deals, almost double the $95 million put into 15 deals during the same period last year," the study revealed.
Services industries were the big winners, with business and financial services companies garnering $81 million through 10 deals, while the consumer services industry raked in $61 million from six deals, it added.
The rise in VC investments in the country were in sync with inflows in other VC hubs like China, the US and Europe.
"Almost every major venture hub saw an increase in deal activity and capital raised. While some regions are still well below pre-recession levels, the growing investment numbers are a positive sign of recovery for the global economy," Dow Jones VentureSource Global Research director Jessica Canning said.
Venture investment in mainland China rose 52 per cent to $689 million from 58 deals in Q2 over the same period last year, with the healthcare sector seeing record inflows.
Both India and China saw a substantial increase in the average size of venture capital deals.
In India, the average deal size has been $8.7 million in 2010 so far, more than double the $3.9 million average seen in 2009.
In China, the average deal size jumped 59 per cent to $10 million.
Overall, venture capitalists worldwide invested $10.3 billion through 1,160 deals with firms based in the US, Europe, Canada, Israel, mainland China and India, the Dow Jones VentureSource report stated.
In the US, venture investors pumped in $7.7 billion through 744 deals in the second quarter of 2010.