US President Barack Obama has assured the jittery market and the world community that his country would pay his bills, even as the IMF warned that the failure to increase the debt ceiling would result potentially major disruption in financial markets.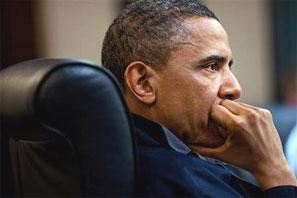 "My message to the world is the United States always has paid its bills and it will do so again. But I think they're not just looking at what I say; they're looking at what Congress does," Obama told a White House news conference on Tuesday.
Obama said every country, every democracy in particular, has tussles over the budget.
"And I think most world leaders understand it. They've themselves been through it if they're in a democracy," he said.
"What you haven't seen before, I think, from the vantage point of a lot of world leaders, is the notion that one party in Congress might blow the whole thing up if they don't get their way. They've never seen that before. And that does make them nervous, particularly given what happened in 2011," he said.
"I mean, keep in mind we've been here before, right? We saw what happened in 2011. I think the assumption was that the Americans must have learned their lesson, that there would be budget conflicts, but nobody again would threaten the possibility that we would default," Obama said in response to a question.
"When they hear members of the Senate and members of Congress saying maybe default wouldn't be that bad, I'll bet that makes them nervous. It makes me nervous. It should make the American people nervous, because that's irresponsible. It is out of touch with reality," Obama said.
"It is based on a flawed analysis of how our economy works. You cannot pay some bills and not others and think somehow that the fact that you're paying some bills protects you from a loss of creditworthiness," he said.
"That's not what happens in our own personal lives. I don't know why people think that that's how it works for the United States government," he said.
Hours earlier, the IMF warned of adverse impact on the global economy if the US defaults if the debt ceiling is not raised by the Congress.
"Failure to lift the debt ceiling would, however, be a major event. Prolonged failure would lead to an extreme fiscal consolidation, and surely derail the US recovery," Olivier Blanchard, IMF Economic Counselor and Director of the Research Department, told reporters at a news conference being held at its headquarters in Washington.
"But the effects of any failure to repay the debt would be felt right away, leading to potentially major disruptions in financial markets, both in the US and abroad," he said.
"We see this as a tail risk, with low probability, but, were it to happen, it would have major consequences," Blanchard said.