Dogged by brokers' interference, exits at the top and clash of opinions, regional stock exchanges still struggle to launch their trading platform.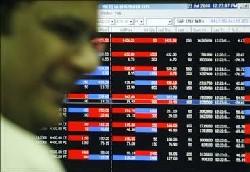 For Molly Thambi, a product of the Indian Institute of Management, Calcutta, with stints at HSBC Securities and the National Stock Exchange, donning the hat of the managing director and chief executive officer of the 100-year-old Calcutta Stock Exchange (CSE) was a misplaced move.

Not surprisingly, she resigned from the position last September, more than a year before her contract was due to expire in December 2011.

V Ravi Kumar, who had joined the Bangalore Stock Exchange in 2009 after high-profile jobs at ICICI Bank, IDFC and SBI Singapore, also quit the exchange recently.

The two exits may not have been concerted moves, but these represent a binding trend among most regional stock exchanges (RSE): Conflict of views in running them.

Around 2006, stock exchanges in India, including regional stock exchanges, got demutualised.

Ownership, management and trading rights of the exchanges were segregated from one another. Over the last two-three years, several RSEs have been trying to launch their own trading platforms, and have been roping in professionals for corporate identity.

The Delhi, Bangalore and Madras Stock Exchanges have been planning their own trading platforms, but the results are doubtful.

The reasons vary - from technology to software pricing, viability and the resultant differences in opinion among board members.

Meanwhile, some RSEs have been forging ties with national exchanges - the National Stock Exchange (NSE) and the Bombay Stock Exchange (BSE) - through subsidiaries, rendering the idea of having an own trading platform redundant, to a large extent.

According to industry sources, legacy issues like too much interference of brokers in exchange matters have been reasons for some top-level exits at RSEs in the recent past.

Thambi's exit from CSE and Kumar's from the Bangalore Stock Exchange was also prompted by "ideological differences", industry sources point out.

"The corporate guys simply do not know how regional exchanges run," said a top executive of an RSE, on condition on anonymity.

Consider the example of CSE: It was on the verge of extinction after being hit by one of the biggest scams in the history of stock markets in 2001.

Following its demutualisation in 2007, several entities, including BSE, picked up stakes in it. In fact, it is the only regional exchange to have its own trading platform, the C-Star.

In 2008, Thambi was brought in with the mandate to give a facelift to the ailing institution.

She did succeed to an extent and was instrumental in initiating CSE's tie-up with NSE, under which it will offer its cash and futures options platform to members of the regional bourse.

CSE expects to roll out the service soon, and it already has a similar tie-up with BSE. Recently, CSE also got approval of the Securities and Exchange Board of India (Sebi) for NSE trading.

Besides these, Thambi was also behind the implementation of a voluntary retirement scheme, which helped the exchange save on costs.

"I joined the board to make a difference and try to revive one of the oldest exchanges in Asia. I thrived despite an abundance of challenges. Even so, in almost two years, I have brought CSE back into public memory and shown that professionalism can make a difference even to the most lost of causes," Thambi mentions in her LinkedIn profile.

Clearly, her decision to quit a job that was fulfilling and challenging was quite a surprise for many.

"I am on sabbatical, after an extremely challenging tenure at CSE," said Thambi, without disclosing reasons for her sudden resignation.

CSE chairman Dipankar Chatterji did not elaborate on the reasons for her resignation. "She probably wanted to go on a sabbatical.

She did her work when she was here," said Chatterji, adding that the Sebi approval came after Thambi left the exchange.

"After demutualisation, the management was supposed to be distinct from ownership, but it never happened in spirit. All regional stock exchanges are still dominated by brokers, and, obviously, top-rung professionals change things even if they want," said a source close to a major regional stock exchange.

The exit of V Ravi Kumar from Bangalore Stock Exchange was also marked with conflicts and differences in opinion, sources said. Kumar could not be contacted for comments.

The exchanges, however, agree that brokers are integral to the working of RSEs.

"They know the core business and they constitute only 25 per cent of the board strength, but, in my opinion, there is not much interference," said Bangalore Stock Exchange Chief Operating Officer C Subramaniam.

Madras Stock Exchange (MSE) Secretary V Balasubramaniam also agreed that the role of brokers in running regional exchanges had been a debatable issue.

Recently, MSE had also tied up with NSE for trade on both cash and derivatives segments on NSE's platform.

"Brokers' say in exchange matters has its advantages and disadvantages. They are the people who know the exchange business, and also bring new clients," said Balasubramaniam.

Starting an own trading platform for most regional exchanges is a risky venture, given that most are in the process of tying up with national-level exchanges for platform sharing.

Also, with BSE planning to launch an exchange platform for small and medium enterprises, the viability of RSEs having an independent trading platform is under cloud.

"Launching an independent trading platform is a risky venture. We don't know how profitable it will be or what kind of revenues it will generate. Active cooperation from stock brokers is important," Balasubramaniam said.

The exchange is hoping to tap small companies with low capital base to start operations.

At the Delhi Stock Exchange (DSE), too, things have not been rosy. Technology-related issues have stalled its plans to launch its own trading platform, though it hopes to start trading over the next few months, said a source close to the development.

Even as souces maintained that brokers' interference had been dominant at the exchange, DSE Executive Director H S Sidhu said: "It might have been the case earlier, but DSE is run by a professional management these days."

The demutualisation of RSEs may have paved the way for corporatisation of RSEs, but they still appear to be far from the trading ring, at least as long as they are cramped by ideological differences.