Accusing the Manmohan Singh government of toeing the line of "big business houses" of the US and India, Communist Party of India (Marxist) general secretary Prakash Karat termed the Congress as anti-people.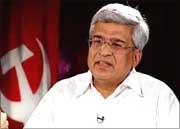 "The agenda of all these anti-people policies is being propelled by the India-US CEO forum. What the chieftains of big businesses in the US and in India propose, the Manmohan Singh government accepts and implements," Karat said.
He said the Congress agenda of inclusive growth was not for the benefit of the poor. "The policies they pursue are designed to exclude the vast majority of the people from access to food, education, job and social security."
Taking a dig at the Congress over rotting foodgrain in open storage, Karat said, "We had opposed UPA policies to ensure food security for the people but this government has ensured food security for rats."
The scathing attack on the Congress party in the extended Central Committee meeting here, in Vijayawada, today, is a paradigm shift from the days of Harkishen Singh Surjeet when the Left took potshots at the "communal" BJP. Karat's CPI(M) has chosen the Congress as its prime target for its "anti-people" economic policies.
If Karat's six-page long speech is an indication, he spent eight paragraphs attacking the Congress, while just one paragraph went into slamming the BJP for its communal politics.
The draft political resolution also said, "The party should oppose the Congress, the prime mover of the neo-liberal policies of the UPA government which represents the interests of the big bourgeoisie and favours a pro-US foreign policy."