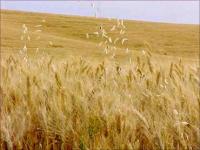 Uttar Pradesh has been feted as India's 'Best Performing State' in foodgrain production clocking 47.138 million tones during 2010-11.
Prime Minister Manmohan Singh handed over a cash prize of Rs. 2 crore (Rs. 20 million), a trophy and a citation to UP Agriculture Minister Chaudhary Laxmi Narayan at an award ceremony in New Delhi.
Chief Minister Mayawati congratulated the farming community saying it was an achievement by 22.5 million farmers' families of the state.
In her press communiqué, Mayawati said, as per her pro-farmers' stance, she had organised a historic 'Kisan Panchayat' in Lucknow on June 2 for a direct dialogue with the community over land acquisition.
The event led to the implementation of a 'progressive' land acquisition policy, wherein the district administration would now merely play the role of a facilitator.
Later, a letter was written to the PM on June 11,
requesting the Centre to implement UP's new land acquisition policy in projects undertaken in the state by central departments and undertakings, including Railways, National Highways Authority of India, Gas Authority of India Limited, National Thermal Power Corporation, etc.
Mayawati maintained her government had implemented schemes to double the income of farmers, which were showing results with UP grappling the top spot in food grain production leaving behind Haryana and Punjab.
Meanwhile, she alleged the Centre had adopted a partisan attitude towards UP. In her barb, she noted the Centre should release pending dues pertaining to Rs. 50/quintal bonus paid to wheat farmers and Rs. 1,200 crore (Rs. 12 billion) of food grain procurement.
"The United progressive Alliance government has not supplied urea and other fertilisers to UP according to the demand. Besides, the Centre put additional burden on farmers by hiking tax by Rs. 289 per metric tonnes," she added.