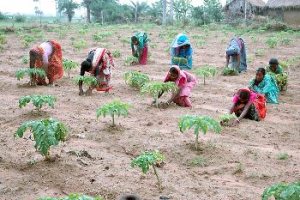 Seeking to erase the impression that the state was not serious in implementing the rural job guarantee programme, the Uttar Pradesh government on Tuesday ordered departmental inquiry against two former district magistrates and suspended 22 officers on various charges.
Besides ordering departmental inquiry against two officers who were district magistrates of Chitrakoot and Sultanpur, the state government suspended two senior officers who were then posted as chief development officers of Mahoba and Chitrakoot districts.
Twenty other officers and employees in Gonda, Balrampur, Mahoba, Sultanpur and Chitrakoot districts were also suspended, it was officially stated.
Chief minister Mayawati, who has been under strident criticism by Congress leaders, including Rahul Gandhi, for alleged irregularities in the implementation of Mahatma Gandhi National Rural Employment Scheme, directed that a chargesheet be slapped on the Sultanpur CDO and departmental action taken against him. Sultanpur comes under Gandhi's Lok Sabha constituency.
During his recent visit to Amethi, Gandhi had alleged that Mayawati government has failed to properly utilise the NREGS funds allocated by the Centre.
According to a release, the chief minister has warned the officials that irregularities would not be tolerated in the implementation of the scheme.
The chief minister has already set up monitoring committees at the tehsil level, besides directing senior officials to undertake spot inspection and third party verification of the NREGS and other development works.
Till now 42 officials and employees have been suspended in connection with irregularities in the NREGS in the state, besides chargesheets have been issued against 69 other officials and departmental action initiated against them.
In 29 districts, FIRs have been filed in 40 cases and action taken against 38 gram pradhans and 30 gram vikas and panchayat officials.