Vijay Mallya may have once again hit a rough patch. Nearly six months after the liquor baron opened talks with global spirits company Diageo Plc to offload a strategic stake in his flagship United Spirits Ltd (USL) - a move that led the Indian firm's stock surge a phenomenal 80 per cent - it is understood that the discussions have hit a rough patch.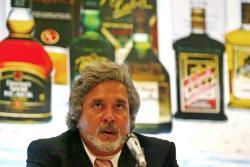 There has been intense speculation that the deal is in the final lap and will be announced anytime soon, but it is understood now that there are many details to be hammered out before there is finality, if at all.
The main aspect, of course, is who will control USL, India's largest spirits company with a 52 per cent market share.
While it is learnt that Diageo may be pushing for a management control of USL, Mallya may have opted for a rethink on this. Though the UB Group spokesperson offered no comments on the ongoing talks, people closely involved in structuring the transaction indicated there were several hurdles.
"There are many hurdles to cross...but discussions are still going on in good faith to find solutions," one person aware of the development told Business Standard, requesting anonymity.
On Monday, the USL stock gained 1.4 per cent to close at Rs 1,291.75 a share on NSE. On Tuesday, the stock was down 2.68 per cent and was trading at Rs 1,257.15 apiece.
According to information available, Mallya is mulling various options to rope in Diageo by offloading a part of his 28 per cent stake, while also parallely offering the entire 3 per cent held in treasury stock to Diageo.
While control of the Rs 9,500-crore (Rs 95 billion) USL is a major issue between Mallya and Diageo, the other aspect which may have been unwieldy is the aspect of USL owning Scotland-based Whyte and Mackay.
"There are anti-trust issues in the European Union if Diageo gets to control the phenomenal reserves of Whyte and Mackay. While both companies are understood to be working with anti-trust regulators to find a way forward on this aspect, there may have been some problems due to which the talks may have hit a road-block," a senior official of UB Group indicated on the possible reasons for the delay in the transaction.