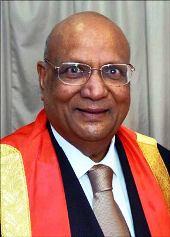 NRI industrialist Lord Swraj Paul has demanded an intensive probe into the raging banking crisis in Britain, saying the Libor fixing has hurt the reputation not only of the financial services but the country as a whole.

Participating in a debate on the 'international competitiveness of UK industry' in the House of Lords on Thursday evening, Lord Paul said: "The biggest issue at the moment for industry is the banking crisis.

"This is so fundamental to our national economy that it must be investigated intensively, and resolved.

"And resolution must avoid any political point scoring, as the whole country needs to have its faith restored in the financial sector.

"The Libor fixing has really adversely affected everyone. It has also hurt the reputation not only of the UK financial services, but the country as a whole. We cannot afford that."

The debate comes in the wake of Barclays chief executive Bob Diamond's resignation after the bank was fined 290 million pounds last week after some of its derivatives traders were found to have attempted to rig Libor -- the London inter-bank lending rate.

Libor is considered to be one of the most crucial interest rates in finance and it underpins trillions of pounds worth of loans and financial contracts.

So when Barclays was fined, public confidence in banks was shattered. The scandal forced Diamond to resign.

At the outset, Lord Paul, Chairman of the Caparo Group -- an industrial manufacturing company, noted "the issue of competitiveness is vital for the future of our country's economy.

"And nowhere is this more significant than in manufacturing. Having been intimately engaged in this activity all my life, your Lordships will appreciate why I will focus largely on this sector."

Lord Paul said: "after a long while, the manufacturing segment of our gross domestic product has shown an appreciable increase in the past three years. "This is intrinsically commendable but it is not enough."

He said: "Britain is now the ninth largest manufacturer in the world -- though a far cry from our ranking in the past. My own experience and evaluation tells me that, given appropriate encouragement, we can substantially enhance that position."

He said: "our manufacturers are doing almost everything they can. And they are keen to do more.

"But for Britain to get the fullest benefit of their endeavours there must be a much more supportive environment.

"Today, many manufacturers feel that a more positive and creative approach by government will help to engender those conditions that enable them to maximise their potential."

Lord Paul said he believed that there is considerably more that the government could do to structure the context in which manufacturers could achieve a higher level of competitiveness -- a condition that would be of great benefit to the country as a whole.

"We live in a world of globalised interaction -- a world in which many governments encourage and support their manufacturing industries. We need to do this - and do it fast.

Otherwise, others will gobble up the gains we have so resolutely made," he cautioned.

Suggesting remedial measures, Lord Paul, who is also Chancellor of two British Universities -- Wolverhampton and Westminster -- said: "There is, above all, the question of inadequate access to finance."

"It is now almost four years since the on-set of the banking crisis with its crippling impact on credit availability -- particularly to small and medium-sized manufacturing enterprises.

"Despite government initiatives, such as the Project Merlin, the money is just not flowing -- even from institutions within its control such as Lloyds and Royal Bank of Scotland.

"In view of this, it is now imperative to create a new corporate institution dedicated to industrial finance -- a high-powered, well-endowed industrial bank of a kind that I have been advocating in this House and elsewhere since this financial crisis began in 2008," he said.

He also wanted the government to look into the costs and time-consuming effect of 'red tape'.

Despite occasional reassurances, 'the bureaucratic tangles of regulatory consent and like procedures continue to escalate. Of course, we must have protection.

But our excessive foot-binding is making it easier, cheaper and less risky to establish projects in countries where these burdens are less onerous.'

Lord Paul said the second concern is the consequence of the currently exceptionally low interest rates on the over-hanging pension burdens of business and it needs to be addressed and addressed fast.

He said "if our competitiveness is to be sustained, we must re-think energy pricing policy."

While strongly endorsing environmental efforts to prevent destruction of the ecological heritage, Lord Paul said: "we need a sense of balance.

The competitive struggle is a tough international battle that is hard to fight with one hand tied behind our back.

"There are industries where energy is a major component of production.

"Try as one may it is simply not possible to avoid or reduce this.

"Our energy pricing is such that our production languishes while our industrial competitors' energy costs are considerably below UK costs.

"Our present system of carbon taxes is basic to this problem.

"t is just not working. Up and down the supply chain of many remaining heavy process industries, jobs are being lost and businesses are in trouble."

Noting that innovation is the life-blood of competitiveness, Lord Paul said: "it can only be achieved through better skills-training and the enhancement of industrial education and research environments."

Recalling his student days at the Massachusetts Institute of Technology, Lord Paul said: "There I saw how the government and the corporate sector worked together with the universities to carry out industrial research for which the universities were paid.

"This strengthened the financial position of the universities while providing innovative ideas and product design to the corporates and to government. Ever since, I have strongly endorsed these synergies."

Admitting that there has been some progress on this, Lord Paul suggested "consideration of a crash programme where government resources anchor such inter-connections.

"With other countries increasing their research budgets perhaps we can off-set our own financial limitations through such a pooling of resources and expertise."

He said: "industrial investment is a long term process and industry needs a clearer sense of economic direction to help that investment."
Image: Swraj Paul