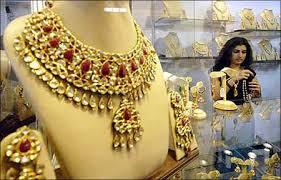 With import of gold and finished jewellery through official channels attracting a high duty and other restrictions, some traders have reportedly discovered a mode of business with risk-free income and without regulatory oversight.

Import of jewellery from Hong Kong attracts no duty in India, due to a free trade agreement.

A handful of large businessmen in the segment have started over-invoicing jewellery consignments to India, to siphon off dollars abroad and earn risk-free off-market interest on it.

"What can jewellers do?

"If the import duty on gold is raised to the unaffordable level of 10 per cent against the business margin of 2.5-3 per cent, jewellers are bound to discover alternative means of livelihood.

"In addition, jewellers have rupee volatility and frequent rises in raw material prices," said a senior industry official and head of a leading trade body, on condition of anonymity.

India has been a significant trading partner of Hong Kong.

Bilateral trade shot up 6.9 per cent to $16.9 billion in the first nine months of 2013.

India is now the fourth largest export market for Hong Kong, whose shipments to here amounted to $8 bn for the period.

Reciprocally, India was Hong Kong's seventh largest source of import in the first three quarters of 2013.
Jewellery consists of a little over half the trade value on either side.
"We are not aware of any such development of over-invoicing of jewellery consignments.
"The Indian customs department is competent enough to seize trade with malpractices," said Benjamin Chau, deputy executive director of the Hong Kong Trade Development Council.
Supported by both governments, HKTDC is organising the 31st Hong Kong International Jewellery Show on March 5-9, 2014, one of the largest jewellery shows in Asia.
Chau, here as part of the organising arrangements, said the fair would be a great opportunity for Indian jewellery manufacturers to reach out to global consumers.
However, such illicit trades cannot go on for ever without being detected.
The Customs department has seized about half a dozen consignments of jewellery imported from Hong Kong and sent these for re-assessment to the Gems & Jewellery Export Promotion Council for re-valuation.
"The GJEPC has become more vigilant.
"It sent its team to Kolkata and Delhi on request from the department of revenue intelligence for reassessment of jewellery consignments, where it found irregularities.
"It submitted the report to DRI," said a GJEPC official, without divulging details.