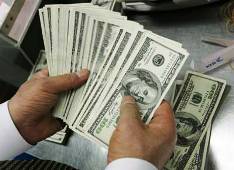 India's exports rose for the second straight month in August, while the trade deficit narrowed as gold imports fell.

Exports climbed 12.97 per cent to $26.14 billion last month and imports declined 0.68 per cent to $37.05 billion, the Commerce Ministry said.

The trade deficit narrowed to $10.9 billion in August from $14.7 billion in the corresponding month last fiscal.

Gold imports dipped sharply to $0.65 billion in August from $2.2 billion in July.

Commerce and Industry Minister Anand Sharma said exports are picking up because demand is improving in
both traditional and new markets. He said measures to promote exports are bearing fruit and hoped the good monsoon would help economic growth this year.
The minister also said Russia has lifted a ban on import of non-Basmati rice from India.
Export growth had touched a two-year high of 11.64 per cent in July, when it touched $25.83 billion.
Imports of gold and crude oil have fuelled India's trade deficit, which has contributed to the widening current account deficit.
The CAD touched an all-time high of 4.8 per cent of gross domestic product, or USD 88.2 billion, in 2012-13.
The government proposes to bring down the CAD to 3.8 per cent of GDP, or $70 billion, in the current fiscal.