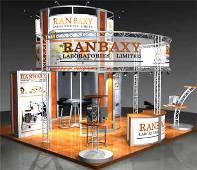 Drug major Ranbaxy said Tuesday it has entered into an agreement with US-headquartered Gilead Sciences to manufacture and market three new generic HIV/AIDS drugs in India and developing countries.

The company has entered into an 'in-licencing agreement' with Gilead Sciences Inc to produce and sell, under licence, three new HIV/AIDS drugs which are currently in late stages of clinical development, Ranbaxy Laboratories said.

As per the agreement, "Ranbaxy will receive complete technology transfer of the Gilead manufacturing process and will pay a royalty on sale of finished products," it added.

The pact will extend the company's existing relationship with Gilead for anti-retrovirals and it will have the rights to manufacture and market generic equivalents of new products --
Elvitegravir, Cobicistat and Quad, Ranbaxy said.
Speaking on the agreement, Ranbaxy Global Pharmaceutical business president Rajiv Gulati said: "We are pleased to extend our partnership with Gilead for the in-licenced new anti-retrovirals that will enhance our capability to provide quality affordable medicines for the treatment of HIV/AIDS in developing countries."
Ranbaxy partnered with Gilead in 2006 to market Tenofovir and Emtricitabine, which are now important products in HIV therapy, in India and other developing nations.
"It is estimated that globally, more than 1.6 million patients are using a Tenofovir-based regime," the company said.
Shares of Ranbaxy were being quoted at Rs 543 apiece in afternoon trade on the Bombay Stock Exchange on Tuesday, down 1.53 per cent from their previous close.