Leading Japanese brokerage Nomura on Thursday said the government could miss the fiscal deficit target of 5.3 per cent by 50 basis points on poor revenue mop-up.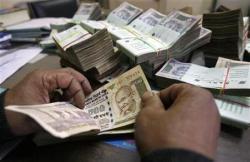 It said even the 10 per cent cut on non-plan expenditure may not help meet the revised target.

"Although purse-strings are being tightened, we expect a fiscal deficit of 5.8 percent of GDP this fiscal, as revenue collection continues to be disappointing," Nomura India chief economist Sonal Varma said in a research note.

The government is cutting back on spending by 10 per cent. After growing near 20 per cent y-o-y during the April-August period, the government spending rose only 2.9 per cent y-o-y during September-October season.

Further confounding the matter for the government is the fall in the tax mop-up numbers, Nomura said.

Revenue collection during the April-October period totalled just 42 percent of the budget target, compared with a historical average of 50 per cent, reflecting an 8
percentage points dip in the required run rate, Varma said.
"Even though expenditure growth has moderated, revenue collection is lagging behind the budget targets. Sluggish economic growth has hurt tax buoyancy, while receipts from asset sales (divestment and spectrum auction) have been lacklustre thus far," Varma said.
Recently, Finance Minister P Chidambaram had decided on a 10 per cent cut back in non-plan expenditure to help meet the revised fiscal deficit target of 5.3 per cent of GDP for the current financial year.
On the Lok Sabha mandate for retail FDI, Varma said it will be a positive if the government can get the majority support in the Rajya Sabha also.
Parliament approval for FDI in retail will suggest that the government has the ability to undertake not just executive decisions, but also legislative reforms.
Besides, it will also clear the logjam created due to the FDI issue and Parliament can start focusing on other important pending Bills during the remaining days of the Winter Session, she added.