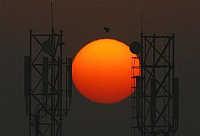 The Supreme Court on Tuesday said Telecom operators, whose licences were cancelled by it but continued to operate due to delay on government's part to hold fresh auction of 2G spectrum, might have to pay for using the radiowaves on the basis of current price.
A bench of justices G S Singhvi and K S Radhakrishnan said that it would consider asking the operators to pay for using spectrum as they continued to operate because of delay in auction by the Centre.
"Those licensees which were operating because of delay in auction must pay. They could not have operated if auction would have happened. We would ask the operators to pay for using spectrum after
four months time," the bench said.
"By virtue of fact that the government was unable to hold auction as per the direction (February 2 judgement), the operators were allowed to continue with the operation and they should pay at the price fixed now," the bench further said.
The court, however, did not pass any order and said that it would consider the issue at the next date of hearing. The apex court had on February 2, while cancelling 122 2G licences, allowed them to run for four months after which the order was to become operative.
The date expired on May 2 but the apex court allowed the operators to continue providing services as the Centre failed to put the spectrum on auction which was done only on November 12.