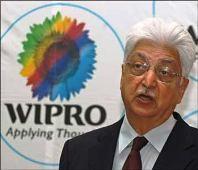 Wipro Ltd has been commended by the Carbon Disclosure Project, which represents 655 institutional investors with $78 trillion in assets, for its approach to the disclosure of climate change information.

According to Wipro, it is the only company from India featured in CDP's 'Carbon Disclosure Leadership Index' for 2012.

With a Score of 95 on 100, Wipro is one of seven IT companies from across the world to find a place in the listing.

This index, a key component of CDP's annual Global 500 report, highlights the constituent companies within the FTSE Global Equity Index Series (Global 500) which have displayed a strong approach to information disclosure regarding climate change.

Companies are scored on their climate change disclosure and high scores indicate good internal data management and understanding of climate change related issues affecting the company.

The index, compiled by PwC on behalf of CDP, provides an evaluation tool for institutional investors and other stakeholders.

In 2012 it comprises 51 companies from the Global 500 based on analysis of the responses to CDP's questionnaire which focused on greenhouse gas emissions, emissions reduction targets and the risks and opportunities associated with climate change.

Anurag Behar, chief sustainability officer, Wipro, said "We are pleased to be included in the global CDLI, a reflection of the strong foundation that we have established over the years on and around our energy and carbon footprint.

"Climate Change is as much a social issue as it is an ecological one, more so for a country like India with its unique set of challenges.

Our climate change program is multi dimensional, addressing Energy Efficiency, Renewable Energy, Travel and Employee Commuting.

Our commitment to carbon reduction is part of our larger engagement on sustainability issues -- it is long term by design and is integral to both, our vision of corporate citizenship and to our business strategy".

Wipro's sustainability initiatives include working jointly with education, civil society organizations and government bodies to shape policies, minimise Wipro's footprint and providing products and solutions that enable customers to become sustainable.

Paul Simpson, chief executive officer of CDP, commented: "Companies that make the Carbon Disclosure Leadership Index have demonstrated strong internal data management practices for the measurement of greenhouse gas emissions and energy use.

They are also giving clear consideration to the business issues related to climate change and their exposure to climate-related risks and opportunities.

"This is vital to realising greater efficiencies, protecting the business from risk and capitalising on opportunities."
Image: Azim Premji