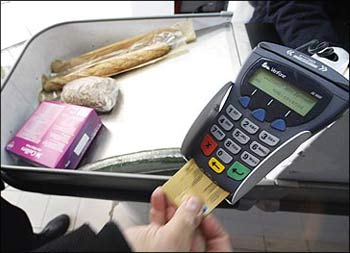 Visa and MasterCard are close to settling a Justice Department antitrust probe over credit-card acceptance rules and the settlement could be announced early this week, a media report has said.


Citing people familiar with the negotiations, the Wall Street Journal on Sunday said, "Visa and MasterCard are close to settling a Justice Department antitrust probe over credit card acceptance rules, potentially giving merchants more flexibility to steer customers to cheaper forms of plastic."


The Justice Department investigation, involves card company policies that prevent merchants from encouraging customers to use cards that have lower processing fees.


The practice, known as 'steering,' is currently permitted only under certain circumstances, the newspaper said.


Under the settlement that is in the works, Visa and MasterCard would give merchants more leeway in deciding whether they wanted to offer incentives for customers who use cards that are less costly to merchants.


The settlement, is not likely to result in a big financial hit to Visa or MasterCard, but could be the latest setback for the credit-card industry, which has been deluged with new rules and restrictions as a result of the financial crisis, the WSJ said.


A settlement with Visa and MasterCard would eliminate some of the legal uncertainty that has been hanging over both companies.


Merchants have also sued card companies over their acceptance
rules.
As per the present rules, card companies charge merchants varied processing fees when customers use different cards.


Besides, cards that offer rewards such as airline miles cost merchants more, and merchants who agree to accept a company's cards must accept all of them.


The settlement could also let merchants offer incentives for cheaper card brands, wherein 'a merchant who accepts both Visa and American Express would be permitted to offer a discount or otherwise steer a customer toward a Visa or MasterCard-branded card over one that has an American Express logo.'


Visa and MasterCard logos make up about three-quarters of the market for plastic. Quoting sources, the WSJ said, "American Express executives believe that the company's smaller market share will bolster its argument to the Justice Department that its policies aren't anticompetitive."


The Justice Department is also looking into American Express Co, which generally charges higher processing fees than its rivals, the WSJ said.


Since American Express is not expected to join the current settlement talks, the government could potentially file a civil lawsuit against American Express, the report added.