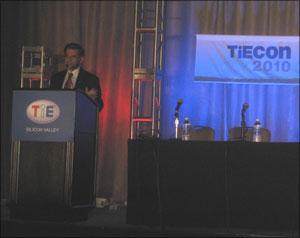 The annual 'The Indus Entrepreneurs' (TiE) conference in Silicon Valley is a tryst for entrepreneurs, venture capitalists, lawyers and corporate executives. 
Unveiling several new initiatives to boost entrepreneurship, the annual conference which completes 17 years, saw 2,500 attendees from all over the world at the Santa Clara Convention Center in California on May 14, to partake in the two-day event themed, 'It's in your DNA'.
The participants come together to network, learn and hear about latest industry trends in the varied fields of software, mobile computing, biotechnology, clean technology and others.
Besides insightful keynotes from industry luminaries and informative panels, fifty companies from over 4,000 participants were felicitated as the best in their fields by a TiE panel of judges.
The new initiatives for this year include the formation of TiE Angels -- a group of accredited TiE charter member investors with the goal of supporting top tier emerging companies with early stage investment and support.
The other novel programme was the 'Outer Realm Sessions' in which experts from academia and industry presented new and emerging trends that can significantly influence business policies and practices.
Opening the summit, TiE Silicon Valley president Vish Mishra paid tributes to Rajeev Motwani of Stanford, C K Prahlad of Harvard and Hemlata Joshi, the first volunteer of TiE and wife of former TiE President, Kailash Joshi.
He also announced the volunteer of the year award and entrepreneur of the year award in the memories of these departed TiE patrons. The audience observed a moment of silence in their memory.
"The two pillars of TiE are belief in entrepreneurship and giving back. Successful entrepreneurs helping budding entrepreneurs with knowledge, resources and other essential tools of the trade for entrepreneurial success," says Vish.
"TiE is a catalyst to unleash an entrepreneur in each one of you as we believe that entrepreneurship is inherent in everyone and only requires a trigger like an event to be set in motion," he said.
Highlighting the theme for this year, Gary Gauba, the co convener of the conference said, "World class workforce, infrastructure development and streamlining processes are the three key pillars of President Obama's strategy for entrepreneurship," says Anish Chopra, the CTO of the Obama Administration in the first keynote at the conference.
He went on to speak about university research commercialization process that the Obama administration is actively promoting.
"Providing safe drinking water to the people of India is a cause very close to my heart. It has caught steam with state governments like Punjab and Haryana," said Dr Anji Reddy.
"With safe drinking water availability, sale of antibacterial drugs will fall,but there are many ways of going up the value chain with innovation. Societal good and commercial profit are not exclusive," added Dr Reddy.
In the first panel of the convention, three global corporate leaders engaged with Anish to deliberate on the policy perspectives that they would like from the Obama government.
"Connectivity is the most important requirement between cloud and device and though we have started taking it for granted like breathing, more needs to be done in the US to invest in connectivity," adds Hakan Eriksson, senior Vice President, GM and CTO of Ericsson.
"Knowledge and interoperability are vital and information integration in large enterprises is becoming a huge concern. Sharing data like healthcare data across myriad platforms can make the healthcare system more effective," adds Mark Lewis of Content and Archiving at EMC.
From a company manufacturing high efficiency, low cost solar cells to a business developing products for the treatment and prevention of respiratory diseases- fifty winners from the five industry segments of Bio Sciences, Clean Technology, Internet, Software and Wireless were honored at the conference.
The firms - diverse in terms of size, stage of the company, type of funding and location, but sharing innovation, ingenuity, strong management teams and quality of ideas made the envious top 50.
"Around 100,000 votes were cast and sixty committee members selected the frontrunners. We added the biosciences verticals to complement the other industry segments. We will continue to keep the final 287 finalists on our radar," says Ram K Reddy, Chair of the Tie 50 initiative, and a Tie charter member.
"The TiE 50 represents the best in entrepreneurship – risk-taking yet pragmatic, visionary but market-aware, and a passion to be the best. We hold up these companies as role models for any enterprise, big or small, established or being incubated, which aspires to success in a dynamic and demanding marketplace. We fully expect that the TiE 50 winners in 2010 will build on the success of winners in 2009 like Kazeon, Mimosa and Mint.com," Vish Mishra, president of Tie Silicon Valley, said.
Image: A speaker at the TiE conference.