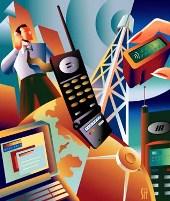 The cut-throat predatory pricing of mobile call rates, which has weighed on the profitability of telecom companies, may end in 3-5 years, Telecom Regulatory Authority of India chairman has said.

"Next 3 to 5 years, we are going to see industry margins are under pressure, companies going looking around for cash to tide them over liquidity crisis and three you are going to see consolidation," Trai Chairman Rahul Khullar told PTI in New Delhi.

"As we start seeing consolidation, you will come to a stage when all these trends of predatory pricing will stop," he said.

Rather than cutting call charges -- which was the theme about two years ago at the height of the price war -- telecom operators are now wooing customers with freebies like same amount of talk time for a lower price or more talk time for the same price.

Trai chairman attributed predatory price as one of the key reasons for deteriorating condition of telecom industry.

"The other thing which has affected them is this predatory pricing. Normally predatory prices refers to increase of price that troubles customers but here it is opposite.

"If one reduced tariff to 10 paisa other slashes it to 5 paisa. Another will reduce it to 1 paisa," he said.

Khullar said that these kind of practice is spoiling
business in the industry.
"When in competition you spoil whole business of the industry then it is not competition, it is competitive destruction. If you murder each other then is anyone going to gain?"
Trai chairman said that the issue like squeezed margin and low profitability for industry will continue for 2 to 3 years and things will improve after that.
"The point which I am trying to make is that rest of the world also sees competition. There are many industry where presence of 4 to 5 players increase competition, at some places 7. But view that 12 to 15 (players) are required for competition is nonsense," he said.
Khullar said four to five players amount to fair deal of competition and added that consolidation in the telecom sector is now inevitable.
"Our prediction is that problems will continue for 2 to 3 years.  From 2014-15, the situation will improve but issue is how will you pass these 2.5 years and there will be constant pressure on industry," he said.
Khullar said that he sees in coming years that industry will start experiencing benefit of 3G and price of 3G devices will fall that will enhance usage of data services.
"When this happens, the composition of revenue shifts from voice to non-voice and as non-voice revenues are more.
"That will change fortunes for the better for the telecom companies," Khullar said.