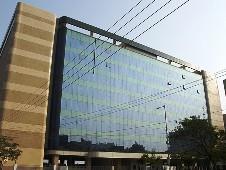 India's largest information technology service provider Tata Consultancy Services is eyeing two contracts for defence strategic communication systems worth Rs 2,800 crore (Rs 28 billion).
The company said one of the projects will be finalised this financial year.
"Currently, TCS is looking at two contracts within the defense communications system. The projects are the Tactical Communications System  and the Defence Communications Network," said Tanmoy Chakrabarti vice-president and head of government industry solutions, TCS.
Industry sources said the Tactical Communications System will be around Rs 2,000 crore (Rs 20 billion) and DCN Rs 800 crore (Rs 8 billion).
"TCS is working closely with the government on the Network Centric Warfare Capability program.
"To this end it would bid on these projects which would aim at solutions providing real time information to the defense forces, along with a geographic information system," Chakravarti said.
Reports in March had stated that private players had been sidelined for defence projects due to security concerns -- like maintaining the secrecy of the 'hopping algorithm' of the Tactical Communications System or the sequence in which it hops frequencies.
A TCS official, however, said that along with TCS, there were other players in the fray for the contract. The list included private IT players like Wipro, Infosys and HCL Infosystems.
Two non-defence public sector enterprises, Elctronics Corporations of India and ITI, will also bid for the projects.
The Tactical Communication System will be a portable system, which could be moved around during the war, including in enemy terrain.
This would provide the military with a support system that would enable them to carry out data communication and transfer operations.
It will be a Communication Program linking the theatre and troops on the battlefield and is likely to be completed by 2012.
The Tactical Communications Network functions along the lines of a cellular phone network, but with two differences.
Towers of cellular phone transmission are permanently fixed on top of buildings, those of the TCS's operations systems include exchanges and switches that could be installed in high-mobility vehicles, allowing them to be transported and to be operational anywhere.
Moreover, communication sent out over the TCS system will not be intercepted or jammed easily, because they will keep switching frequency instead of having a single band.
The DCN would be a dedicated optical fibre network, which would focus on radio spectrum -- voice signals in wireless devices -- and is key for cellular mobile telephony to operate.