Tata Consultancy Services chief N Chandrasekaran, on Monday, took over as Nasscom (National Association of Software and Services Companies) chairman for 2012-2013.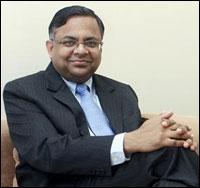 The software body, which represents the $100 billion Indian IT-BPO industry, has also appointed MindTree CEO Krishnakumar Natarajan as the vice chairman of the executive council.
"Globally, there are significant growth opportunities available for all Indian IT companies and by choosing appropriate strategies, investing in capabilities and executing well, our industry can continue to expand its mind share and market share across developed and emerging markets," Chandrasekaran told reporters in New Delhi.
Chandrasekaran said the executive council will work on re-inventing and embracing new business models, work on strengthening innovation capacity and research capabilities of Indian players, strengthening long-term entrepreneurial environment.
Nasscom would also work on enhancing skilled talent pool in the country and focus on specialisation.
"One of the key priorities for Nasscom is to build the future companies of the industry and I look forward to take this initiative to greater heights," Natarajan said.
Photograph: Reuters