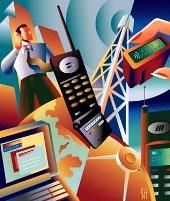 Even as Idea Cellular is planning to appeal against Delhi high court's adverse judgment on its merger with Spice Communications, about Rs 1,460 crore (Rs 14.6 billion) is stuck as part of its litigation with the department of telecommunications.

The court asked Idea to transfer all the licences of Spice back to DoT.

Both Idea and DoT have been sparring over the overlapping licences in six telecom circles, which have come to the company's fold after it acquired 41.09 per cent in Spice.

Idea claims it has been trying to return the extra licences. DoT say Idea had held on to these, breaching a law that an operator should hold less than 10 per cent interest in another operator in the same circle.

While these arguments continue, Idea is yet to get back Rs 842 crore (Rs 8.42 billion) in licence fee from the government after returning licences in six circles.

In addition, the company has furnished Rs 300 crore (Rs 3 billion) in bank guarantees for the licences.

DoT has also not allotted spectrum for the company's 3G licence in Punjab. Idea applied for 3G in Punjab through the 2G licence formerly held by Spice.

The operator paid Rs 322 crore (Rs 3.22 billion) for the licence.

It approached
Telecom Disputes Settlement and Appellate Tribunal, which has reserved its order on the issue.
Even as a substantial amount of capital is stuck in the dispute, Idea avoided a huge monetary loss with an order from TDSAT restraining DoT from demanding a penalty from it.
DoT wanted to charge Rs 50 crore (Rs 500 million) per circle, a total hit of Rs 300 crore (Rs 3 billion).
In 2010-11, Idea posted a net profit of Rs 864 crore (Rs 8.64 billion) on revenue of Rs 15,503 crore (Rs 155.03 billion), making the amount stuck in litigation a substantial weight on its balance sheet.
For financial year 2011-12, it has planned to spend as much as Rs 4,000 crore (Rs 40 billion) on its 2G and 3G networks.
Stock market analysts said they were taking a 'wait and watch' stance on Idea's legal troubles.
The licences under question are in Punjab, Haryana, Andhra, Karnataka, Maharashtra and Delhi, some of the most lucrative circles.
"This amount is a huge financial liability. These are major circles for them and losing would be a huge blow," said Srishti Anand, telecom analyst at Angel Broking.
Idea Cellular's stock fell two per cent on the day after the HC judgement, though it had shown signs of recovery later.
In Thursday's trade, the stock went up around two per cent.