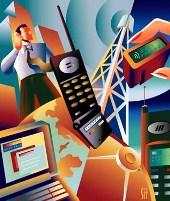 Telecom Watchdog, a non-government organisation, on Wednesday filed a petition in a court in New Delhi against the charge sheet filed by the Central Bureau of Investigation in the excess spectrum allocation case of 2002 during the National Democratic Alliance regime.

In the petition filed with O P Saini, judge, Patiala House Courts, the NGO stated the investigation agency had carried out improper investigation and exonerated private individuals, including the chairman and managing director of an accused telecom company in a malafide manner.

CBI has dropped the name of Sunil Mittal, CMD of Bharti Airtel Ltd, as it was "under pressure to bailout Mittal", Telecom Watchdog said.

The name was removed for 'reasons best known to' the then CBI director A P Singh, it added.

According to the NGO, the CBI investigation
team in its earlier recommendation had named Mittal as one of the accused. But the CBI charge sheet, filed in December 2012, did not name him.
Also, V K Gupta, the then in-charge of the case, was not kept in the loop when CBI took the decision to drop the name of Mittal.
CBI has alleged that the then telecom minister Pramod Mahajan approved the allocation of additional spectrum with additional charges of only one per cent of the adjusted gross revenue of the operators.
In the petition, the NGO has sought orders to direct CBI to produce all relevant files before the court in reference to the issues raised, "to suo moto hold an inquiry in respect to the facts brought in the knowledge of the court and take appropriate legal action against the individuals who were directors of the accused telecom companies at the period."
It has also requested the court to ask CBI to give a copy of the charge sheet and relevant files to the petitioner.