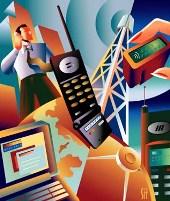 Reliance Communications said on Friday it is in talks with Bahrain Telecommunication Company (Batelco) for stake sale in its unit Reliance Globalcom, company's global communications services business unit.

"The company note recent reports in the press and confirm that it is in discussions with Batelco Group with respect to Reliance Globalcom, the Company's global communications services business unit," Reliance Communications said in a filing to the BSE.

At
this point, there can be no certainty that this will lead to a transaction, it said, adding that a further announcement will be made in due course if appropriate.
As per the company website, Reliance Globalcom owns undersea cable system spanning 65,000 km, which connects 40 business markets in India, Middle East, Asia, Europe, and the US.
The company serves over 2100 enterprises, 200 carriers and 2.5 million retail customers in 163 countries across 6 continents, it said.
The company scrip was trading 1.10 per cent lower at Rs 67.40 in late morning trade on the BSE.