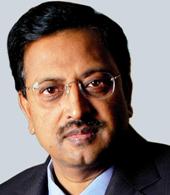 Former chairman of Satyam Computer Services B Ramalinga Raju, down with fever and suffering from some infection, appeared before a local court in Hyderabad on Tuesday wearing a face mask.
Raju, the prime accused in the accounting scam in the IT firm, made his fifth appearance in the XXI Additional Chief Metropolitan Magistrate court, after he got bail from the Andhra Pradesh high court.
Raju, who is suffering from hepatic ailment is undergoing treatment at NIMS hospital in Hyderabad since September last year.
He was specifically asked by the doctors treating him to wear the mask. Raju, according to NIMS authorities, is attending court proceedings against the medical advice and has been asked to wear the face mask should he move out of the room where he is treated for Hepatitis C ailment.
"I had advised him (Raju) to wear the mask right from day one since he decided to attend the court proceedings," Dr Ajit Kumar, told PTI, adding Raju had developed some infection and was down with fever.
Asked what infection Raju was suffering from, the doctor said, "We are already giving him some anti-biotic and waiting for the medical report to determine the cause of the infection and will start a course of anti-biotic based on the findings of the report," he said.
Image: B Ramalinga Raju