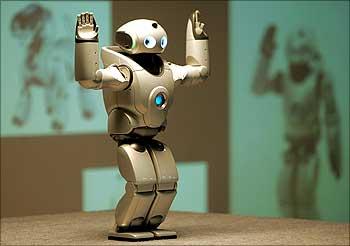 Researchers have developed a new dancing robot that analyses music played through its speaker-ears and generates real-time unique dance moves.

Researchers at Georgia Technology developed the gyrating Robotic dock that looks like a bizarre futuristic table lamp, but in fact is a fully featured dancing robot called 'Shimi'.

They have now turned into into a real gadget, and hope to fund the production of the $149 device via the Kickstarter web site, the Daily Mail reported.

"We are seriously excited to present our project to you: Shimi, the first musically intelligent robotic speaker dock," researchers say.

"Shimi is a real robot with artificial intelligence that analyzes music it plays through his speaker-ears and generates real-time unique dance moves to bring the music to life in a fun, cute way," they said.

The gadget uses five motors to move, and also has facial recognition software so it can automatically rotate so its speakers are always pointing towards the listener.

It also has a microphone and can understand human speech, so owners can simply tell it what they want to hear.

They can also tap along and the robot will adjust its rhythm accordingly.

The team promises to keep developing the robot once they hit their $100,000 target.

"We are already working on applications that will allow Shimi to respond to your facial expression, learn your musical tastes, and recommend new music to you," said researchers.

"We will keep developing new applications for Shimi. Expect apps for gaming, education, music making, telepresence and more, very soon," they said.
Image: The QRIO robot performs a dance at a New Delhi school. | Photographs: Desmond Boylan/Reuters
The image is for representation purpose only.