In a fresh twist to the telecom spectrum scam case, the Central Bureau of Investigation (CBI) has now turned the heat on one of its own, A K Singh, a prosecutor, along with Unitech managing director Sanjay Chandra, an accused in the case. CBI has initiated a preliminary inquiry against Singh for allegedly revealing the "prosecution strategy" to one of the 2G accused, suspected to be Chandra.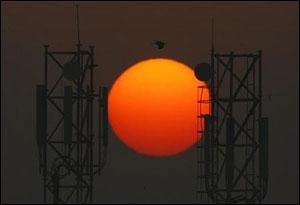 Both Singh and Chandra were called to the CBI headquarters for questioning in connection with the inquiry today. Following this, CBI removed Singh from the 2G case trial team and appointed another prosecutor in his place. It informed the court about the developments.
CBI had received an audio recording, with voices that were alleged to be of Singh and Chandra, from an anonymous person. Clarifying on the matter, the investigative agency said: "CBI maintains strict vigilance over its officers and prosecution teams, and no instance of professional misconduct is taken lightly."
Unitech, on Chandra's behalf, said in a statement: "Sanjay Chandra is currently unavailable owing to a bereavement in his family. However, he wishes to make it absolutely clear that he has never met the prosecutor in the 2G case outside of court or had any phone conversation with him.
He denies the suggestion that his voice is on any alleged recording. It appears a fabricated voice recording has been sent anonymously to CBI. Any suggestion that Sanjay Chandra is linked with this recording is nothing but an attempt to malign him and prejudice his defence in the 2G case."
For Chandra, who is out on bail, this could be the beginning of another ordeal. He was taken into judicial custody under Section 420 of IPC on April 20, 2011, for cheating and criminal conspiracy. He was granted bail following a Supreme Court order on November 23, 2011, after spending nearly eight months in Delhi's Tihar jail.
CBI had alleged Chandra and Unitech Wireless were privy to special information since they had the demand draft of Rs 1,658 crore (Rs 16.58 billion) ready in October 2007, ahead of any official announcement of dates for deposit of 2G licence fee. Chandra always maintained his case should not be clubbed with the rest of the 17 accused in the 2G spectrum case, including former telecom minister,
A Raja, and three telcos - Swan Telecom, Unitech Wireless and Reliance Telecommunications.