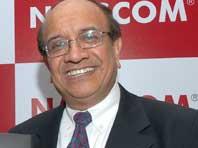 The executive council of the National Association of Software and Services Companies (Nasscom) on Monday extended Som Mittal's term as president of the industry body till early 2014. Earlier, his term was scheduled to end in 2013.

The executive council, which met in Chennai on Monday, stated, "Som Mittal is doing an outstanding job in leading Nasscom as president.

"The executive council of Nasscom has unanimously agreed to extend his term till early 2014, to which Som has kindly agreed."

Som Mittal had taken charge as Nasscom president in January 2008, when the industry was faced with an extremely difficult period of growth.

"The president's position is tenure-based. He was appointed for the president's position in 2008 for five years," said Sangeeta Singh, vice-president, Nasscom.

Though Nasscom does not have a human resources policy that mandates its president to step down at a certain age, former Nasscom president Kiran Karnik, at 60, had cited age as a reason for stepping down.

Nasscom is the representative body of India's $100-billion information technology industry.
Image: Som Mittal | Photograph, courtesy: Business Standard