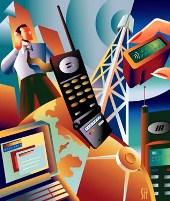 State-run Mahanagar Telecom Nigam Limited, struggling to survive in an intense competitive telecom industry, is charting out the road ahead for its CDMA business.

The plan may include closing down its operations in the segment.

The 1986-founded company is in the process of appointing a consultant for formulating the future plan of action for its CDMA business.

A senior MTNL official said the company would decide only after a consultant report on whether it should go for an upgrade of its CDMA network or must close the segment completely after it shifts users to the GSM segment.

"We will soon appoint a consultant to look into this," he told Business Standard. It wants to focus only on the GSM segment.

The company has already decided not to make any fresh investment in the CDMA segment as there is 'no growth', the official added.

It has about 150,000 users on its CDMA platform: Garuda, in Delhi and Mumbai, where it offers mobile services.

However, MTNL's CDMA users are not able to avail the roaming facility as it is only a limited mobility service.

"We are not seeing any growth in the segment due to the restrictions in the limited mobility service," the official said. "Because of this, we have decided not to make any fresh investment
currently."
The company may also go in for a franchisee arrangement for managing its CDMA business, but a final decision will be taken only after some time.
After a gap of almost two years, MTNL had got a permanent chairman and managing director, A K Garg, in December last year.
The company has been posting losses since quite some time because of retirement benefits, high wage bill and dipping revenues because of competition in the telecom industry.
It has also asked the department of telecommunications to clear a voluntary retirement scheme which will be offered to 15,000-20,000 employees, a third of its workforce. Already cleared by the MTNL board, the proposal is awaiting nod from the DoT.
The scheme will require the company to make a one-time payment of Rs 2,000-3,000 crore (Rs 20-30 billion) MTNL has asked the DoT to help it financially to implement the scheme. MTNL, currently, has an employee base of about 45,000.
In 1998-99, the company had an employee base of 61,967, which came down to 44,910 in 2009-10.
The Centre has taken a keen interest in the functioning of MTNL and other loss making state-run telecom PSU BSNL.
In fact, Communications and IT minister Kapil Sibal says he is confident of turning around both the PSUs.
He has directed the DoT to review the performance of both the firms on a monthly basis.